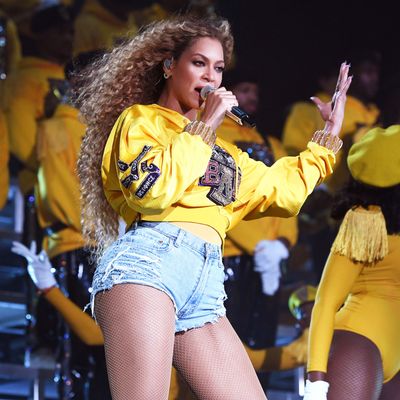 Beyoncé at Coachella 2018.
Photo: Larry Busacca/Getty Images for Coachella
Late Saturday night, Beyoncé performed for nearly two hours outside of Palm Springs. During her Beychella — er, Coachella — set, she sang all of her greatest hits and was objectively amazing. But contrary to what you may have seen floating around Twitter, she did not change her nail polish halfway through the desert performance.
A few photos currently circulating on social media appear to show Beyoncé wearing two different nail colors during her headlining show. In one tweet, Beyoncé is seen accompanying her custom latex Balmain unitard with glossy black nails, while another photo shows Beyoncé wearing silver nails at a later point in the show. Another set of photos shows Beyoncé with black nails at the start of show, and with silver nails later on when she switches into her latex suit. The photos suggested something spectacular. Did Beyoncé perfect the smallest details of her show, down to an incredibly fast polish change? Eh, not exactly. The photos and the video from the performance appear to tell two different stories.
In videos from the performance, it's clear that Beyoncé wears only one nail polish color: black. At no point in any of the videos is Beyoncé seen with the silver shade.
So what about the photos that appear to support the nail-polish-switch theory? Beyoncé herself posted a few shots on Instagram with her nails in the silver shade. But look closely at those photos. Do you see an audience? Could the photos be from a dress rehearsal, perhaps? The dress rehearsal theory appears to be the most logical conclusion. While it's thrilling to imagine Beyoncé as a sort of master magician who is capable of swapping her nail polish mid-show, the idea doesn't hold water. Oh well. Thanks for all the memes, at least.