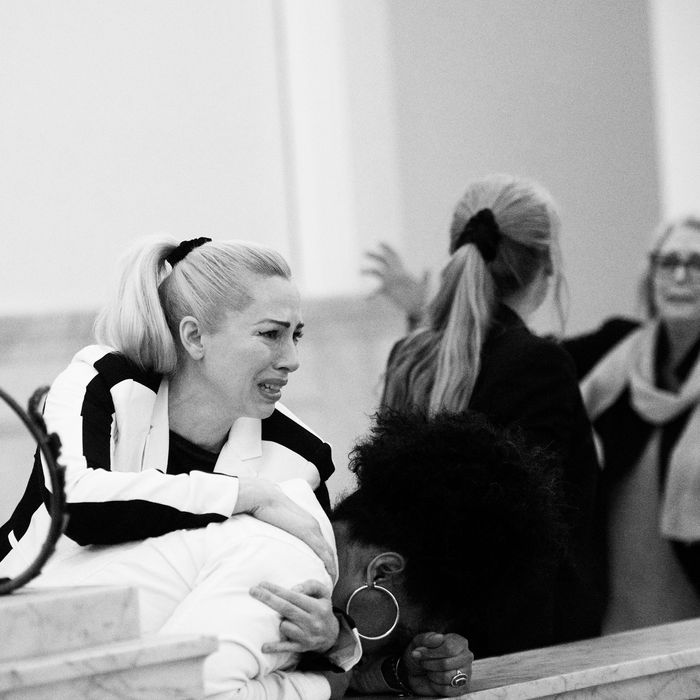 (L-R) Caroline Heldman, Lili Bernard, and Victoria Valentino (far right).
Photo: Mark Makela/Getty Images
On Thursday, a jury found comedian Bill Cosby guilty of three counts of aggravated indecent assault against Andrea Constand, a former employee of Temple University women's basketball team, who claims Cosby drugged her and sexually assaulted her when she visited his home in 2004. Cosby faces up to ten years in jail for each of these counts (though he will likely serve them concurrently.)
Constand is one of the dozens of women to accuse Cosby of sexual misconduct, with claims dating back to the mid-'60s, and during Constand's retrial, five of these women were permitted to testify.
When the verdict was read, shrieks and cheers erupted in the courtroom, according to Fox News, and some of the other accusers who were present "whimpered and cried." Constand reportedly remained stoic as the verdict was read, and left the courtroom with her arms around two friends.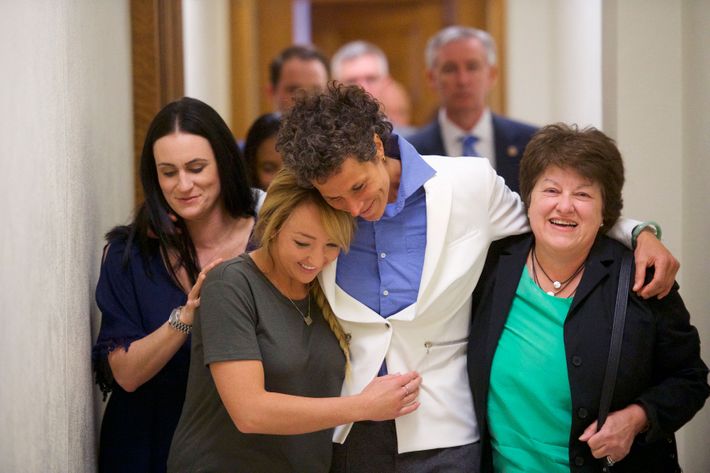 In one powerful video, Lili Bernard and her friend Caroline Heldman are seen sobbing and embracing as they exit the courtroom. (Bernard accused Cosby of drugging and raping her when she guest-starred on The Cosby Show in the early 1990s.)
Outside, Bernard tearfully told the assembled press: "I feel like I'm dreaming. Can you pinch me?"
"I feel like my faith in humanity is restored," she went on. "This is a victory not just for the Commonwealth of Pennsylvania, not just for the victim in the case, Andrea Constand, not just for the 62 of us publicly known survivors of Bill Cosby's drug-facilitated sexual crimes against women, but it's also a victory for all sexual-assault survivors, female and male, it's a victory for womanhood. I thank the jury so much for positioning themselves on the right side of history."
Bernard then joined other accusers and attorney Gloria Allred, who represented 33 of Cosby's alleged victims.
"Beginning in late 2014, the accusers of Mr. Cosby whom I represent began to speak out. It took a great deal of courage. In the beginning, many were not believed. We are so happy that finally we can say women are believed, and not only on #MeToo, but in a court of law where they were under oath, where they testified truthfully, where they were attacked, where they were smeared."
Allred and her clients concluded: "Bill Cosby, three words for you: Guilty, guilty, guilty."