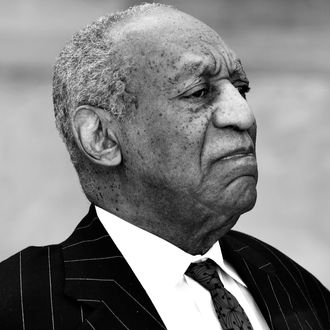 Bill Cosby.
Photo: Bastiaan Slabbers/NurPhoto via Getty Images
Comedian Bill Cosby was found guilty of three counts of felony aggravated indecent assault on Thursday. They include one count of penetration with lack of consent, one of penetration while unconscious, and one of penetration after administering an intoxicant.
Over 60 women have come forward in the past few years to accuse Cosby, 80, of having raped or sexually assaulted them. He faced criminal charges stemming from allegations by Andrea Constand, a former Temple University employee who said that Cosby drugged and sexually assaulted her in 2004. He was originally tried for that crime last year, but those proceedings ended in a hung jury.
The retrial, which has been extensively covered by Natalie Hope McDonald at Vulture, began on April 9th. It kicked off with the arrest of a topless protestor – who turned out to be an actress who appeared on The Cosby Show as a child – on day one and ended with Cosby's lawyer falling asleep in court . Five other women who alleged sexual abuse by Cosby — including his most high-profile accuser, model Janice Dickinson — were permitted to testify against him. Cosby did not take the stand himself.
According to the Associated Press, he unleashed an "expletive-laden tirade" at the prosecutor following his conviction.
He faces up to ten years in prison for each count.