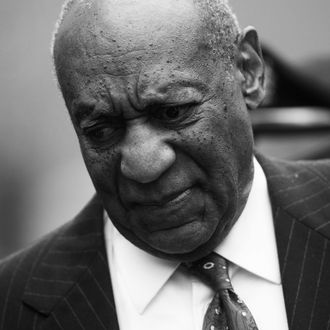 Bill Cosby.
Photo: Mark Makela/Getty Images
Nearly 60 women have come forward in the past few years to accuse comedian Bill Cosby of rape or sexual assault. Cosby, 80, is facing criminal charges for just one of them: Andrea Constand, a former Temple University employee who alleges that he drugged and sexually assaulted her in 2004. His first trial ended in a hung jury in June of last year, while his retrial began on Monday — and in between the two, stands the #MeToo movement and an increased call for justice for sexual-abuse survivors.
Here's what to know about the first week — which writer Natalie Hope McDonald has been chronicling at Vulture — as Cosby faces three counts of felony sexual assault.
The first day featured a topless protester — who turned out to be an actress who appeared on The Cosby Show as a child.
A woman protesting in the manner of Femen — the controversial feminist activist group whose signature move is to show up topless with slogans painted on their bodies — was arrested outside the Montgomery County Courthouse in Norristown, Pennsylvania, before the trial even began. She was identified shortly afterwards as Nicolle Rochelle, a 39-year-old actress who had been on The Cosby Show in the past.
Five of Cosby's accusers have or will testify against him.
The DA was attempting to get 19 accusers in court and was permitted five: they include Janice Dickinson, Janice Baker-Kinney, Heidi Thomas, Chelan Lasha, and Lise-Lotte Lublin. At the time of publication, Dickison, Baker-Kinney, Thomas, and Lasha had taken the witness stand. Constand herself will testify on Friday. For many, the statute of limitations has run out, but their testimony will bolster the prosecution's side in this particular case.
And Janice Dickinson said she wanted to punch him in the face.
You probably best known Dickinson as an especially forthcoming judge on the earlier seasons of America's Next Top Model. She was also straightforward in her testimony, in which she recounted her allegations that Cosby raped her when she was a young model in 1982. "Here was America's dad on top of me, and a happily married man of five children, and I just remember thinking how wrong it was," she told the courtroom, adding that she wanted "to punch him in the face."
If convicted, Cosby could face up to ten years in prison for each charge.