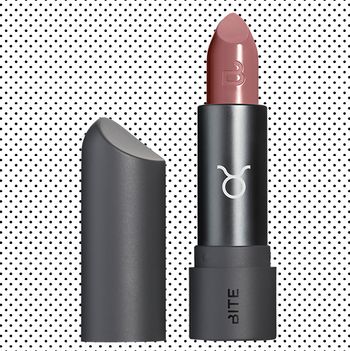 It may have felt like forever, but it's only been a month since Bite Beauty announced its last Astrology lipstick. Like clockwork, the natural beauty brand is releasing its newest zodiac sign lipstick this week, and we finally know what it'll look like. This time, the brand is celebrating Taurus birthdays (April 20 to May 20).
As the sun officially enters Taurus this week, the world apparently will become livelier, and people will need a bigger sense of security. For the sign that craves reliability and longevity, Bite made a trusty lipstick that can be used every day and will be a staple in anyone's makeup bag. The lipstick is a muted rose nude, which is fitting since Tauruses are known for being "sleepy" and "sensual." If you're still looking for a "my lips but better" natural shade, this one might finally fit the bill. If it's a little too light, try lining your lips with a darker pencil and blending the two shades together.
Like the other shades in Bite's Astrology collection, this one comes in the creamy and citrusy Amuse Bouche formula, and it was made with the help of psychic and "tea and lipstick reader" Tara Greene, who helped the brand describe the defining characteristics of the star signs.
The Taurus lipstick will come out on April 20 at Sephora, but like the others, it definitely won't stick around for the whole month. And now that we know what the Taurus one looks like, we're one month closer to the Gemini reveal that promises to make us "do a double-take."