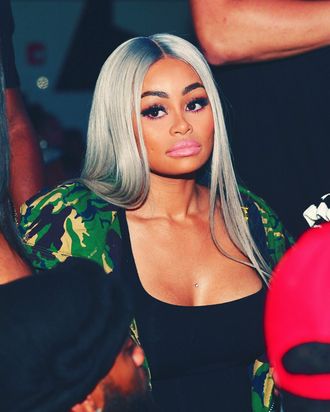 Blac Chyna.
Photo: Prince Williams/WireImage
In the past 24 hours, a video of Blac Chyna weaponizing a hot-pink stroller has surfaced on social media, opening up questions of who started the fight and where were her two kids and why even was Chyna swinging around a stroller?
According to TMZ, the incident occurred at the Six Flags theme park near Los Angeles, where she spent her Sunday with her 1-year-old daughter Dream Kardashian, her 5-year-old son King Cairo, and a number of adults. In the video that started circulating last night, Chyna is seen picking up the stroller (which Dream is not in) and swinging it around, attempting to move toward someone who presumably pissed her off. However, she never appears to hit anyone, thanks to her 18-year-old rapper boyfriend, YBN Almighty Jay, who was restraining her.
Early Monday morning, after the video quickly began circulating on social media, Chyna responded to the incident on her Instagram story.
"Being famous is hard enough dealing with scrutiny but when someone feels comfortable to come and touch your child it's a whole other story," reads a screenshot of a message typed on the Notes app. "I do not condone violence nor am I a violent person but shout out to all of the amazing mothers out there that will protect their children at all cost."
So wait … did someone try to touch Dream? According to the stroller "victim" herself, the answer is yes. An 18-year-old named Alexis who spoke to TMZ says she was the one who patted Dream on the head, after which Chyna told her to back off. However, Alexis claims that Chyna wasn't the one to start to fight, but instead her rapper boyfriend, who allegedly punched Alexis and her sister (!). It was then that Chyna reportedly got involved.
Some sources close to TMZ also said that the fight escalated when Alexis called Chyna a "hood rat" — a slur that Alexis denies saying.
Is Alexis lying? Did YBN Almighty Jay physically assault someone? And where was Dream during the fight? We'll likely never know the answers to all our outstanding questions, so perhaps it's best to move on, like Chyna seems to have done.