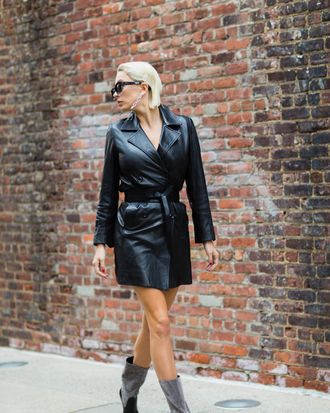 Photo: Nabile Quenum/Nabile Quenum
I love blazers so much that I'm wearing one right now. I feel strongly that everyone should own them in multiples. But when it comes to going out at night — especially to events where the dress code is fancy, trendy, and/or fashion-forward — it can be hard to make a blazer feel appropriate. Enter the blazer dress: the sexy, party-ready sibling of my favorite wardrobe staple.
A blazer dress looks exactly like an oversized blazer buttoned up, so you'll want to pay special attention to the fit to avoid an overly boxy silhouette. (The last thing you want to communicate is "Oops, I forgot to put on pants.") Depending on your shape, you'll either want it to widen through the hips for a fit-and-flare effect, or remain narrow, skimming the body. Once you nail down the fit, all you need is a swipe of lipstick and a great pair of heels to make it feel special. Scroll down to shop some of our favorites.
Photo: Brown, Indya
Red is bold and powerful, and makes you take notice. It's also still a favorite among designers. This flattering dress is a bit wider around the hips for an hourglass fit.
The asymmetrical hemline is subtle but interesting, and the closure is so sleek and simple.
If You Loved the Leopard-Coat Trend
Stay spotty even when it's warm outside.
Because Pink Will Never Die
The popularity of pink has yet to fade, so go ahead and buy a blazer dress in the ubiquitous color.
The Japanese-Inspired One
The slouchy oversize fit and utilitarian details make this look like vintage Sacai.
Because You Love Off-White
Photo: Brown, Indya
Bella Hadid was photographed wearing something similar in magenta, but this one is a tad more affordable.
When You Want to Look Like an Instagram Influencer
All that's missing is the mesh knit bag full of ripe citrus fruit.
Score a piece from the fashion blogger's first collaboration with clothing brand J.O.A.
The Tuxedo-Inspired Dress
As with a classic tuxedo, the shiny lapels add an air of elegance. Pair it with thin gold strappy heels for an even more black-tie look.
If You Love Structured Silhouettes
Wear it with sleek over-the-knee boots or classic white sneakers to contrast the dramatic shoulders.
Photo: Brown, Indya
Alessandra Rich's ruffled hem blazer dress is a favorite among fashion editors. It's been on my Pinterest board for months, but until I can afford the $2,000 price tag, this will fill the void.
The sexy dress is also on an insane discount.
If You Love a Good "Cher" Moment
You can expect a lot of '90s yellow plaid this fall. Here's a way to get in on the trend early.
Photo: Brown, Indya
Add a beret for a French-girl flair.
Sharp suiting is what Theory does best, so it only makes sense that their blazer dress is impeccably tailored.
If you buy something through our links, New York may earn an affiliate commission.