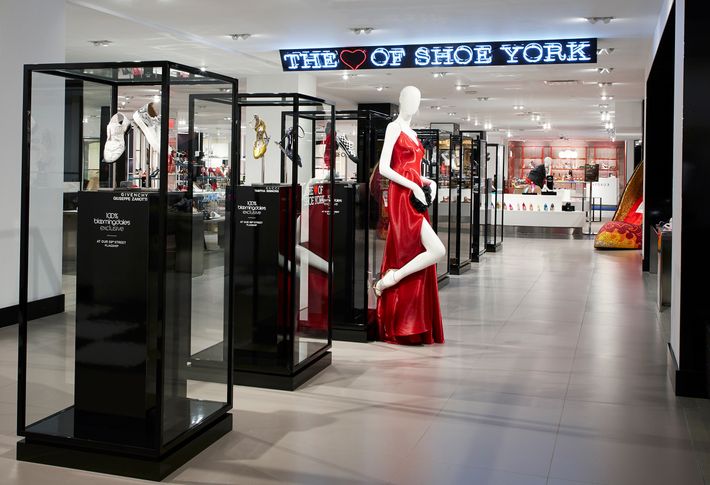 Bloomingdale's opened a new, immaculately designed shoe floor at its 59th Street flagship in New York earlier this month: a 26,000-square-foot paradise for shoe lovers. Unveiled April 3rd, after a year of renovations, the store's fifth floor now offers one-of-a-kind shoes by high-end designers, special events, and much more in a range of price points. Below, we've outlined seven reasons to visit the new shoe floor on 5, which Bloomingdale's has named the "Heart of Shoe York."
1. The Giant, Instagrammable Shoes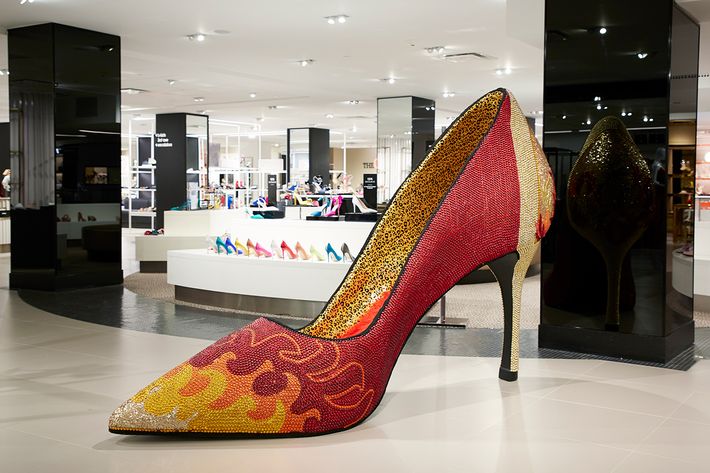 To celebrate the shoe floor's opening, Bloomingdale's enlisted several local New York City artists to design giant shoe installations that make Instagram-worthy backdrops. The larger-than-life shoes are placed throughout the store and inspired by scenes from the city – you'll see heels covered in Broadway playbills, neon graffiti, and mosaic tiles that resemble the walls alongside subway platforms.
2. Special Events (Where You Can Drink With Your Friends)
Designers like Sarah Jessica Parker and Mark Badgley and James Mischka have joined Bloomingdale's for a series of special events for shoe lovers. Brian Atwood most recently made a guest appearance at a tequila tasting. Next up: "SW x You" on April 27th, when guests can shop Stuart Weitzman's limited-edition crystal letter clips – and choose a monogram to make personalized statement shoes. Check out the full calendar of 59th Street events here.
3. The Lifesaver: Cobbler Concierge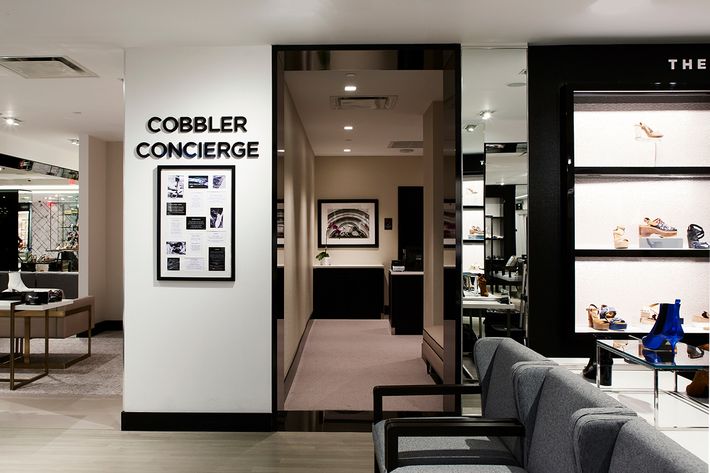 Visitors can take advantage of an on-site live Cobbler Concierge service located on the fifth floor. The concierge provides full stitching, rubber, and leather repairs to refurbish men's and women's shoes and handbags. It's an accessories lifesaver.
4. One-of-a-Kind Shoes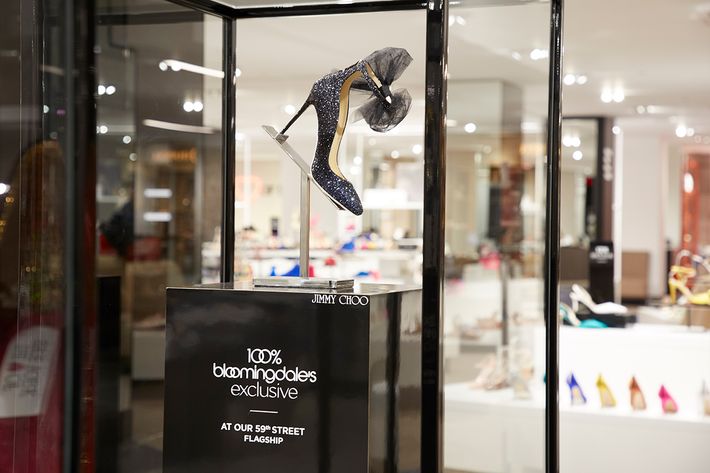 Bloomingdale's commissioned Dior, Chanel, Marni, and more designers to create 34 one-of-a-kind shoe styles sold exclusively on the new floor. Kate Spade New York, SJP by Sarah Jessica Parker, and Dolce Vita also contributed – you'll see these sought-after designs under "100% Bloomingdale's Exclusive" signs.
A few styles from the lineup of exclusive, 100% Bloomingdale's shoes:

5. Take Your Pick: Made-to-Order Flats and a New Pair of Shoes Every Week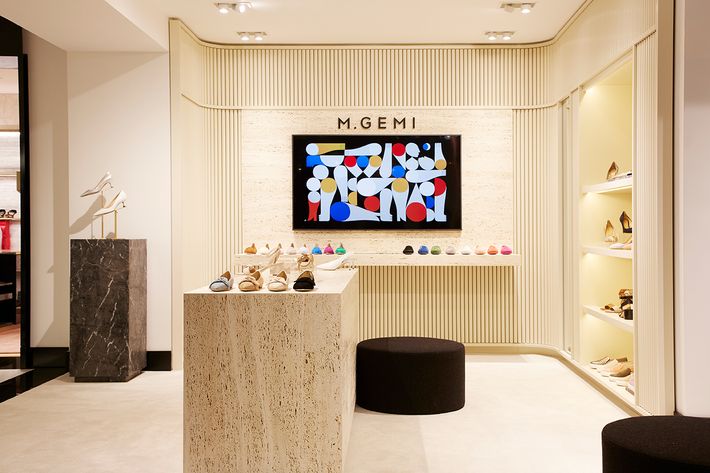 One special section of the floor is devoted to emerging designers – and it includes Margaux and M.Gemi. At Margaux, Bloomingdale's shoppers can buy made-to-order ballerina flats (and other shoe styles) in the brand's handcrafted Italian leather. You pick the color, width, and more details, and they'll ship the shoes to your door.
M.Gemi makes luxury handcrafted Italian shoes for women and men, partnering with small family-owned workshops. The label will drop new shoe styles at Bloomingdale's 59th Street every Monday, inviting customers to try them on in the store and have purchases shipped to their homes.
6. The Luxe Designer Salons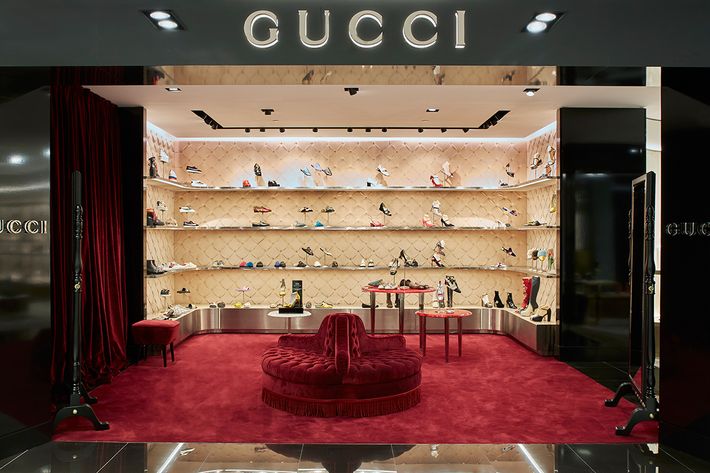 The new floor continues to deliver extensive luxury brands with nine designer salons gleaming along the floor's black-and-white marble perimeter. These designer boutiques include Chanel, Dior, Fendi, Gucci, Jimmy Choo, Louis Vuitton, and Salvatore Ferragamo.
7. Where You'll Find Something for Every Shoe Lover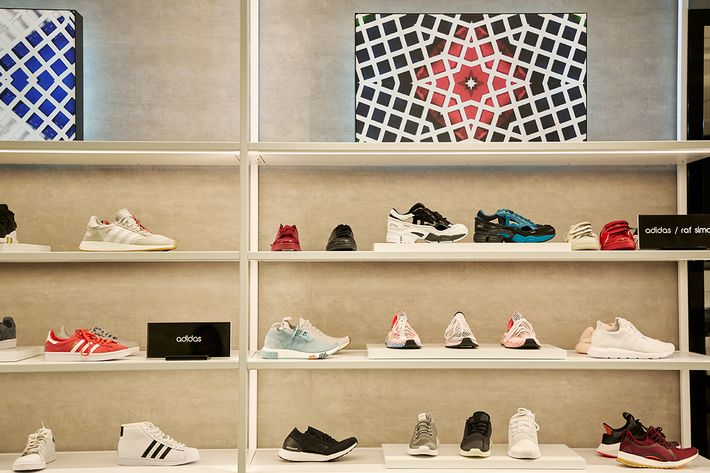 The contemporary shoe department is the floor's largest destination, housing every style of shoe imaginable within a generous range of price points, including: sandals, sneakers, heels, boots, and an impressive selection of sneakers. Spot the first full footwear collection from the Bloomingdale's private-label brand, Aqua, along with designers like Creatures of Comfort, Chiara Ferragni, and Kenzo. They're displayed on opulent mirrored and marble tables. Tory Burch and Stuart Weitzman have separate shops nearby.
Get the full experience on the fifth floor of Bloomingdale's 59th Street. It's the "Heart of Shoe York" and an ultimate shoe-shopping destination.
This is paid content produced for an advertiser by New York Brand Studio. The editorial staff of The Cut did not play a role in its creation.