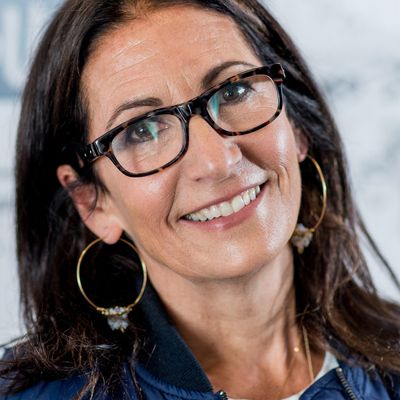 Bobbi Brown.
Photo: Roy Rochlin/FilmMagic
Bobbi Brown's eponymous makeup line made her a household name, but a year and a half ago, she announced that she was stepping away from her beauty empire. Since then, she's opened a boutique hotel in New Jersey and talked about launching a lifestyle brand. Later this month, her metamorphosis into wellness guru will become complete when her new brand debuts on QVC.
Evolution_18 is a four-product wellness line poised to launch on April 20. It consists of two smoothie powders, a probiotic supplement, and a beauty vitamin intended to strengthen hair and nails. Brown launched it with an editorial component, justbobbi.com, and she's positioning all three projects — the products, the website, and the hotel — as components of a new lifestyle company, Beauty Evolution.
The Cut caught up with Brown at her apartment ahead of Evolution_18's launch. She talked about her evolving relationship with diets and health, why she believes wellness is not a luxury, and why she's training to become a health coach.
Why are you entering the wellness space now?
When I launched my cosmetics company, it was the '80s and people were wearing technicolor makeup. There were oranges, purples, greens, contouring, and over-lined lips, and I couldn't do that. I could only make people look pretty with their own coloring. I didn't think it was going to work, but eventually it caught on. My initial idea was Bobbi Brown Essentials, because I was so overloaded with everything that was out on the market.
That's kind of what I'm doing here — making wellness simple, easy to understand, and purposeful. When I was launching this brand, I didn't see anything else good out there. It's my way of simplifying all of the stuff that I already do.
I'm also training to be a health coach at IIN — I've been obsessed with health and wellness for a long time. I love food, but I want to wake up in the morning and feel good and have energy. I don't want to feel bad because last night I went out with my posse — my kids, my husband, and my nephew — and had a cocktail and a great dinner. I'm learning how to balance things and how to not have angst about what I put in my body. So many of us beat ourselves up because we've done something that's not good in our mind, but what is not good? You're spending time with people you love. That overshadows everything else.
Tell me more about training to be a health coach.
I'm not going to open up an office or anything, but I'm a natural health coach because I've always encouraged people to eat healthier. When I was at the Bobbi Brown makeup brand, I used to bring in wellness speakers a couple of times a month so people in the office could listen to experts and learn. It's something I've always believed in.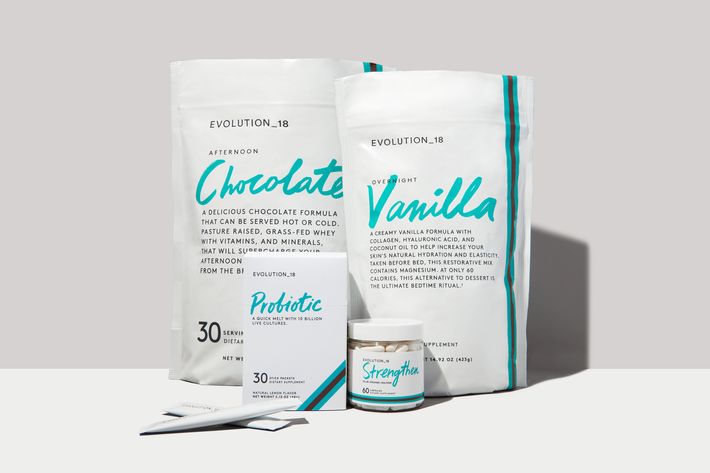 How long have you been working on Evolution_18?
We've been talking for a year or two with the lab and with QVC, but the product development started five months ago. It's a start-up, and we're still getting all of the product ready. The same thing happened with the makeup company all those years ago. I made a lipstick, but I didn't have a box for it. I put it in an envelope with a little piece of paper that listed the ingredients and my husband would mail it out to people. Now that's called green!
When did you start to realize that there's a connection between what you put in your body and how you look?
When I was a kid, my mother and I would always go on diets. I remember the HOV diet, which was honey, oil, and vinegar. The Scarsdale diet … we were diet fanatics. That's what people did back then; that was health food.
When I moved to New York and started being a freelance makeup artist, I'll never forget how all of a sudden there were breakfast options on set. Croissants, bagels, and then lunch would be pasta, flatbreads, and then all of a sudden at 4 in the afternoon you're on the floor. One day I said: "Okay, this is stupid." It wasn't about being thin, it was about how bad I felt. I started bringing Ziplocks of food to work — vegetables, rice crackers — and I never stopped. I realized that the better the things you put into your body, the better you feel. Even when I was building a company, I had three kids, I was commuting to New York, I needed the energy when I came home at night to take care of my family. If I didn't do certain things, I felt better.
It sounds like you aren't a gluten fan. Would you call gluten the No. 1 enemy of wellness?
Everyone is different, but I don't feel good when I eat grains. It's not good for my digestion; I feel sluggish and bloated. Some people can do it, but I can't, so I don't. People have to get to what they are on their own. When I'm in the thick of it, I don't come in to work until 10 a.m. because I exercise in the morning, and I expect my employees to do the same. By the way, don't waste time during the day chatting. Do your work and leave at 4 or 5 to go do something else. I believe in that.
How would you respond to the idea that wellness is only for people who have money to spend on luxuries?
The wellness space is not a luxury space. It's a needed space because you are only as good as how you feel. If you don't feel good, you're not going to have energy to take care of other people, let alone take care of yourself. You can be healthy without wellness products; you can be healthy without a gym. To me there's no excuse. Put your sneakers on and walk. If you don't have sneakers, put your comfortable shoes on.
Is there anything that you know now about wellness that you wish you'd known when you were younger?
I wish I would've spent more time weight-training. I do weights now, but it's hard to build muscle when you're older. I'm going to be 61 years old, and I would've told my 16-year-old self to keep up with the weights.
This interview has been edited and condensed.