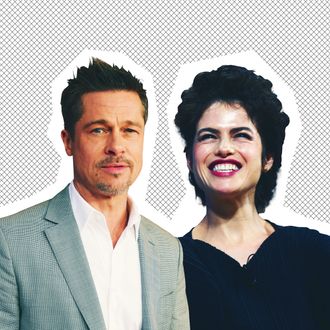 Brad Pitt and Neri Oxman.
Photo: Getty Images
Since the first week of April, the tabloids have been slowly building a narrative about Brad Pitt's relationship with Neri Oxman, an architect and MIT professor. First, "Page Six" reported that Pitt and Oxman were "friends," and that Pitt was eager to spend more time with her. People added days later that Pitt has been visiting MIT frequently and that Oxman could be his "Amal Clooney." And now, Us Weekly is going all in: The tabloid reported yesterday that Pitt and Oxman are "very infatuated with each other" and that they "continue to talk on the phone several times a day."
This is looking more and more like a calculated PR rollout by Pitt's team. This week, Oxman just so happened to be photographed — twice — walking around MIT, and she also gave an exclusive interview to CNN Style about her work. (No mention of Pitt, of course, but she got slightly personal in response to a question about feminism: She said she thinks all people should be feminists, but that she "treasure[s] chivalry.")
In the Us Weekly story, a source said that "Neri is extremely uncomfortable with all of the media attention and feels that her personal life has now come under a microscope," which may be true. But then the source continued to say that "Brad feels badly about this of course, but he is powerless to stop it."
Okay. If anything, Pitt started it. I'd recommend rereading the original "Page Six" exclusive, which is packed with Pitt sources going on and on about how fabulous and impressive Oxman is. The story also revealed that Oxman was, until recently, dating billionaire hedge-funder Bill Ackman. As Lainey Gossip noted at the time, "names like Neri Oxman and Bill Ackman don't show up out of nowhere in connection to Brad Pitt. This scoop was hand-delivered by someone."
And now Us Weekly, which has been more fantastical since it was sold to the Trump-friendly AMI last year, is running away with the story, reporting that Pitt and Oxman are infatuated and that "their chemistry is off the charts." What's next? I think it won't be long before Pitt gets papped in Cambridge.