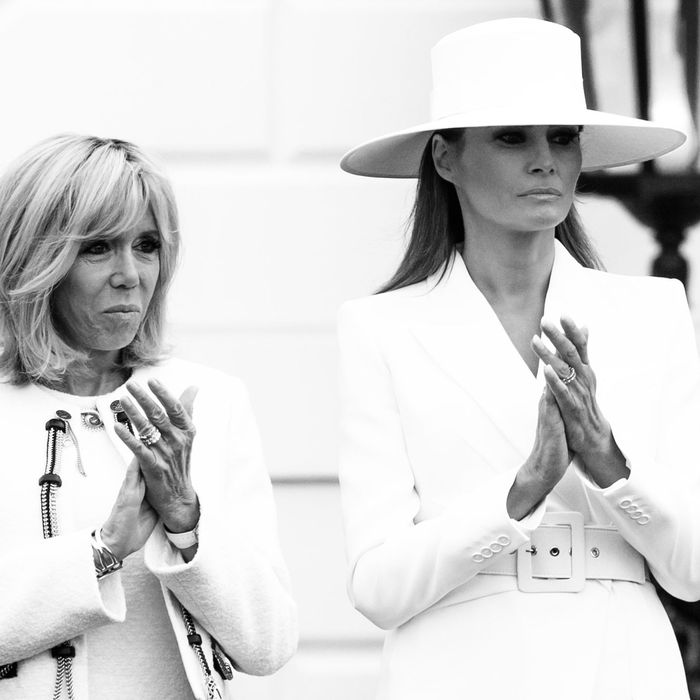 Photo: Cheriss May/NurPhoto via Getty Images
It appears that Donald Trump and Emmanuel Macron aren't the only two world leaders enamored with each other. In a brutal interview with The Guardian, French First Lady Brigitte Macron says Melania Trump is "actually really fun" — but only when she's inside the White House, which is the only place she's apparently allowed to be.
This comment comes on the heels of Macron and his high-school teacher turned wife's first official state visit to the U.S., during which Trump and the French president were PDA'ing hard, even though Macron was struggling with an embarrassing dandruff problem. While the two adult men were shamelessly pawing at each other, the two First Ladies were also getting to know each other … and maybe making cries for help?
Though Brigitte Macron told The Guardian she has to "be careful" as a First Lady, she said that Melania "cannot do anything." "She can't even open a window at the White House," she said. "She can't go outside."
Which, in Brigitte's opinion, is a shame. The First Ladies "laugh a lot together," and Brigitte thinks Melania is "kind, charming, intelligent and very open."
In other words, Brigitte would totally get Melania more than a $5 card from the drugstore for her birthday.