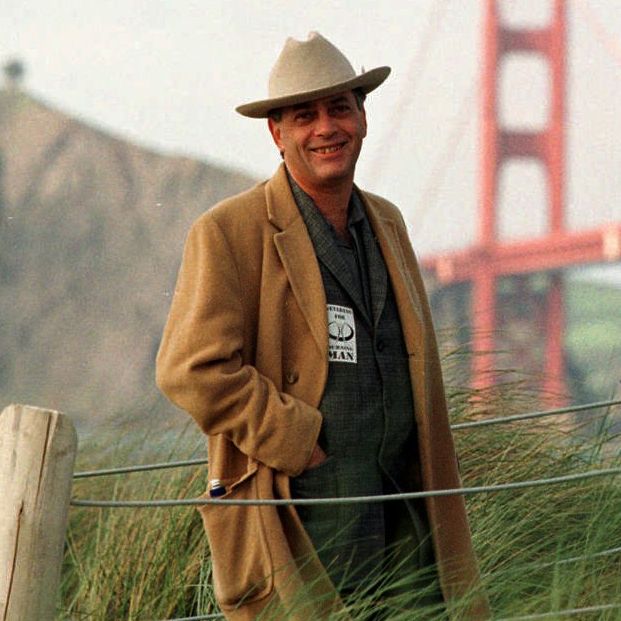 Larry Harvey.
Photo: Eric Risberg/AP/REX/Shutterstock
Larry Harvey, the man who co-founded what would become the massive desert festival known as Burning Man, died over the weekend at the age of 70. Harvey had suffered a stroke earlier in the month, and passed away at a San Francisco hospital on Saturday.
Born in 1948, Harvey was adopted by farmers in rural Oregon as a baby. Per the New York Times, he served in the Army, had a brief stint in college, then moved to San Francisco where he took on a variety of odd jobs. The first Burning Man took place at Baker Beach in 1986, and involved a handful of people burning an 8-foot tall statue of a man on the shore.
It has since grown to become an annual phenomenon in Nevada's Black Rock Desert — last year's festival drew 70,000 people, who created and observed art installations, listened to music, and ostensibly dropped a ton of acid. This year's is still planned for late August, with the organization saying, "If there's one thing we know for sure, Larry wants us to burn the man."
Over the years, Burning has brought us a Grover Norquist adventure, Thinx founder Miki Agrawal conceiving her child in the Orgy Dome and then giving away her breast milk so people could make lattes with it, and Paris Hilton's expert DJing. It has flooded my social media feeds with people I vaguely knew in college wearing outfits that can only be categorized as "steampunk-meets-slutty." And every year, without fail, I still find myself saying, "Look, I wouldn't not not go to Burning Man."