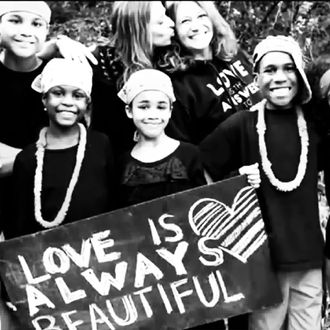 Last week, an SUV carrying a family of eight went over a cliff in California — and now, authorities say they believe the crash was intentional.
A spokesperson for the California Highway Patrol told NBC News that their investigation indicates "pure acceleration all the way" off the cliffside. There's also reportedly a lack of physical evidence, like skid marks, that would point to an accident.
The bodies of parents Jennifer and Sarah Hart, 38, were discovered at the scene. The bodies of three of their adoptive children — Markis, 19, Jeremiah, 14, and Abigail, 14 — were also found, while police are still searching for Devonte, 15, Hannah, 16, and Sierra, 12. All are presumed dead. A photo of Devonte hugging a police officer went viral in 2014; it was taken at a Portland protest after a grand jury failed to indict the police officer who shot Michael Brown.
Per NBC, Jennifer and Sarah had been investigated for abuse and neglect in the past:
Sarah Hart was charged with a misdemeanor offense of domestic assault against her daughter Abigail in 2011, and neighbors claimed that Devonte would often ask them for food. He said his parents would withhold food as punishment.
The Washington State Department of Social and Health Services also received a complaint about the family on March 23, just a few days before the crash.
The Cut will update this post as more information becomes available.