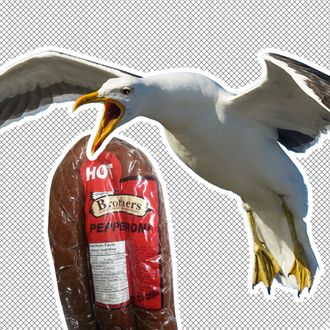 This is a story about perseverance. It's about the importance of amending one's past wrongs. And it's about what happens when a bunch of seagulls find a bunch of pepperoni.
CBC reports that the Fairmont Empress in Victoria, British Colombia, has lifted their 17-year ban on Nick Burchill — a ban that was instated after an unfortunate incident on a business trip. In a Facebook post explaining what happened back in 2001, Burchill writes that he had placed a local pepperoni delicacy on his hotel room balcony to keep it cool. He went for a walk, then returned to his hotel a few hours later:
I remember walking down the long hall and opening the door to my room to find an entire flock of seagulls in my room. I didn't have time to count, but there must have been 40 of them and they had been in my room, eating pepperoni for a long time.
Long story short, the seagulls trashed the room, he managed to knock out the hotel's power trying to get them out, and the Empress told his employer that he no longer welcome to stay.
The seagulls, meanwhile, have yet to express remorse for the pepperoni incident.