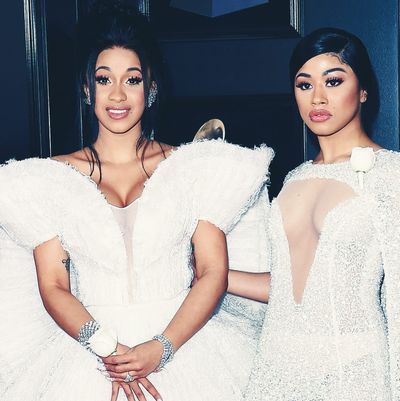 Cardi B and her sister, Hennessy.
Photo: Axelle/Bauer-Griffin/FilmMagic
No one's more excited about Cardi B's pregnancy than the rapper's sister, Hennessy Carolina, who might've accidentally revealed the sex of her sister's baby.
After denying pregnancy rumors for months, claiming that she was simply trying to "fat in peace," Cardi finally announced on Saturday Night Live that she is expecting a child with her fiancé, Offset. On Sunday evening, Hennessy posted a loving Instagram of Cardi during her SNL performance, with a caption that currently reads:
"A baby is truly a blessing from god I know how much you always wanted to be a mom! You always been Like a second mom to me so I know u gonna be the best mommy everrrr. you took care of me like i was ur own daughter I know how much you LOVE babies. Growing up, you would always break me off a piece of your plate without me asking… to our little brother you give him whatever he imagines …. every time I use to see your adorable baby pictures , I use to wish I was older than you just so I wouldve gotten the chance to carry you and give you kisses when you were a baby because you were so cute and adorable! and NOW that ur baby is coming its like it's coming true! I'm going to be able to hold ur baby and give the baby all the kisses and hugs! your pregnancy is mines we pregnant can't believe we're having a baby! hehehehe and to my brother @offsetyrn @iamcardib Auntie hennny aowwwww."
But the caption didn't always use gender-neutral language. According to E! News, the phrase that reads, "give the baby all the kisses and hugs," was originally, "give her all the kisses and hugs." Either realizing that she had made a meaningless mistake, or that she had revealed the sex of Cardi's baby, she edited the caption to take out "her."
Cardi has yet to respond to the drama, probably because she just wants to pregnant in peace, dammit.