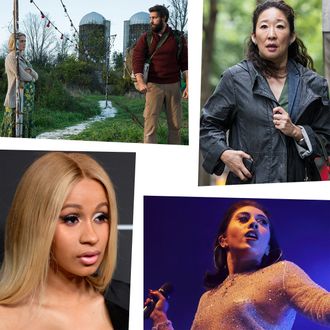 Photo: Jonny Cournoyer/Paramount Pictures/BBC America/Getty Images
What's Good is a weekly column collecting TV, music, movies, and miscellaneous cultural ephemera worthy of your time. Why? Because we like it. Check back Fridays at lunchtime for your guide to what is good.
Cardi B's debut Invasion of Privacy, the most anticipated album of 2017 and 2018 and actually our entire lives, dropped last night. It's not even 24 hours and I've almost worn this album out and it already went gold. So go on, Bardi Gang, gloat; those who were worried she couldn't live up to "Bodak Yellow," breathe a sigh of relief. Cardi skeptics go ahead and grudgingly bump this on your AirPods: this album is so, so, so good. Cardi is here to stay.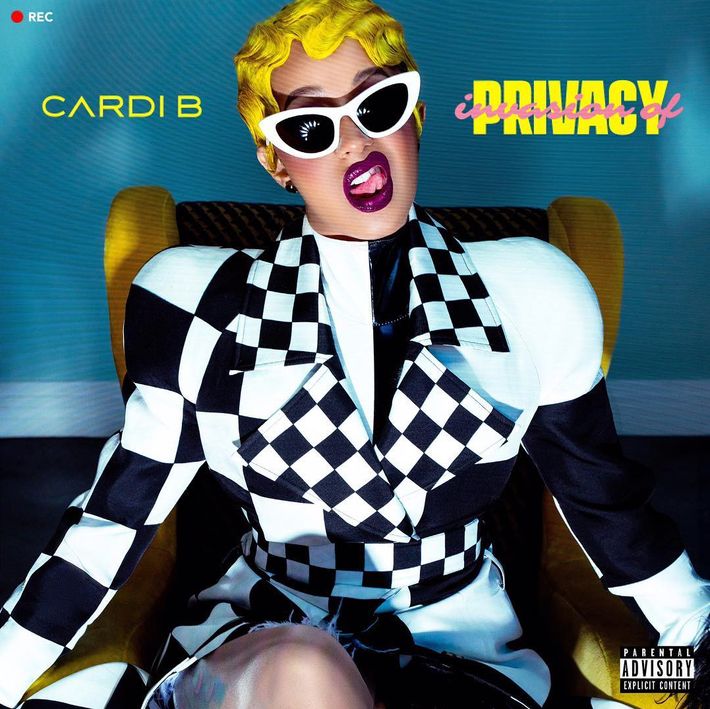 Invasion of Privacy delivers everything we want from Cardi. Her lyrics are funnier than ever, her flow is better than ever, she makes Beyoncé references. And the artists she worked with — Kehlani, YG, Bad Bunny and J Balvin, and SZA — might not be Beyoncé, but, honestly, they are savvier and more relevant collaborations. She's candid, delightfully crass, and characteristically bombastic on songs about her come up ("Get Up 10" and "Stripper Ho"). What keeps Cardi from seeming like a caricature or an act is her ability to be vulnerable even when she's dropping lyrics about eating her "ass like a skirt steak." And on Invasion of Privacy, she digs even deeper and gets more vulnerable about her relationships ("Be Careful") and relationships in the digital era in general. "Thru Your Phone," is the realest song about going through your partner's phone, seeing something you don't want to see, and all the creative murder fantasies that come along with the hurt. (Also, she sings!) And "Ring," featuring Kehlani, is an unexpected gut-check of a ballad: it sucks when someone stops hitting you up, and now we have a song about it. Bartier Bardi? More like Bartier Bard of our generation, amirite?
This album can — and, deep sigh, will — launch 1,000 think pieces and takes; Cardi herself has launched 1,001. But whatever we have to say about Cardi, she says it all and says it better on this album. Maybe let's have a "no-take" pact and stream it a million times instead, decide which songs are the best — "I Do," a user's manual for read receipts; "I Like It," and the passionate "Get Up 10," in my opinion which will change in 24 hours. (In fact it already changed. Add "She Bad!"). Then we can publish detailed debates about which lyrics are Instagram captions ("Only time that I'm a lady's when I lay these hos to rest"), which you'll use in subtweets (any lyric from "Best Life"), which just became your personal mantra ("Leave his texts on read, leave his balls on blue / Put it on airplane mode so none of those calls come through"), and which is your new self-help ("Pussy so good, I say my own name during sex.")
And If You Can Stop Listening to Cardi
Kali Uchis's song "Tyrant" has been on every single one of my playlists since summer '17, so I'm delighted to dig into the Colombian-American singer's debut album Isolation. Uchis borrows from across the musical board: weaving Latin Pop and Psych Rock with her brand of heavy-lidded CBDR&B. It's the perfect soundtrack for slow, sultry, stoned summer (if it ever gets warm). In the meantime, I'll be listening to "Just a Stranger" and "Your Teeth in My Neck" on repeat to prep.
That Kali Uchis album immediately made me start looking up tour dates, and it turns out the musicians she's touring with will also probably end up on all of my playlists for the next year. Cuco is a 19-year-old from Los Angeles who writes sweet, earnest, trippy pop that reminds me of my youth before I turned 32 and my heart calcified. Check out "Sunnyside":
And lastly, Azealia Banks reminded us that, yes, she might live for drama, but she still makes incredible music. Listen to "Anna Wintour, the first track from her long anticipated (and endlessly teased) album Fantasea II. It sounds like CeCe Penistion and Grace Jones had a baby and I want to live in it forever. Join me.
No TV Show Matters Except 'Killing Eve'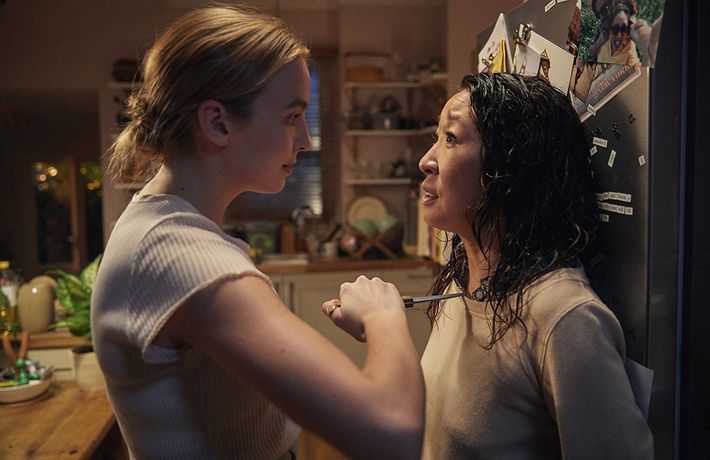 With Fleabag, Phoebe Waller-Bridge created a rare, genuine anti-heroine in the sexually liberated, funny, but deeply complex and broken title character. All those holding their breath for a second season of Fleabag may not get it for a while. But in the meantime, Waller-Bridge's new BBC America series Killing Eve will more than suffice. It's brilliant and premieres tonight.
Eve (Sandra Oh! Yes!) is an M-15 agent bored with her job, her sweet mustached husband, and her life in general. But she does have an obsession with female killers and murder (so on-trend); i.e., she knows exactly how she'd kill her husband (it involves a blender, a flask, and a toilet). Enter Villanelle (Jodie Comer), a ruthless, talented assassin who takes a sorry-not-sorry attitude toward killing, as demonstrated by the cheeky doo-wop song that accompanies her first murder. The show focuses on the cat-and-mouse game between the two of them. In the hands of a lot of other writers, this would be a set-up we've seen over and over again, but in Waller-Bridge's hands it's macabre, weirdly funny, and an interesting portrait of two women with very dark impulses that play out in very different ways. In the first episode, there's a moment where the two meet in the bathroom while Eve is fixing her hair: Spy doesn't know she's in the presence of killer, killer doesn't know she's in the presence of spy. The two look at each other. "You should wear it down," Villanelle says. And the electrical undercurrent between the two quickly sets up a relationship that is going to be so messed up and I cannot wait to see where it goes.
And don't worry, the show's already been given a second season.
How to Survive 'A Quiet Place':
John Krasinski's horror movie A Quiet Place opens tonight. It's a short, day-in-the-life tale about a family in a not-so-distant future where some monster threatens to kill anyone who makes a sound. We don't know a lot of details about how civilization almost ended, we just see a very slow, very quiet (natch) slow-rolling tale about how parents (Krasinski and his real-life wife Emily Blunt) keep their family safe, and what they have to do when things are really really swiftly hitting the fan. Thanks to a few well-timed jump scares and a slow-building sense of dread that seeps into the whole movie, it is occasionally so scary it might make you cry (but also so ridiculous it might not be effective).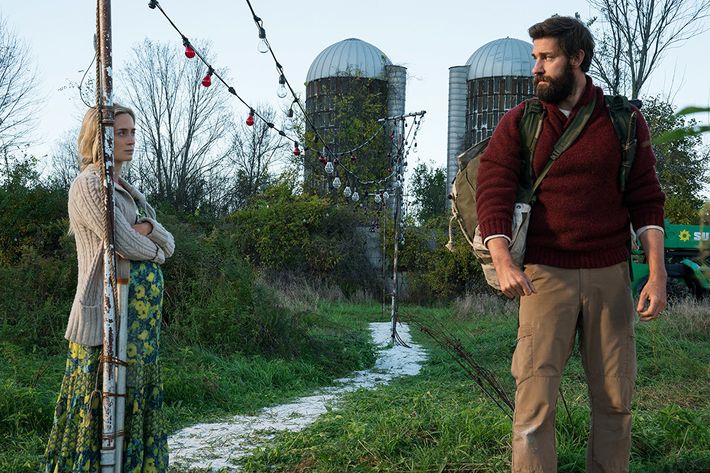 Instead of focusing on the "horror," I recommend focusing on the beautiful rustic marriage porn the movie also indulges in. It's easy, since Emily Blunt and John Kraskisnki are actually low-key relationship goals in real life, and they've brought that energy to the screen. In a world with little electricity, few other people, and a huge beautiful farm where they grow their own vegetables and catch their own trout, the apocalypse becomes not a thing to fear, but a perfect backdrop marriage to the ideal Tamar Adler domestic lifestyle of your fantasies. Look! Home birth. Look! Krazaddy with the beard and an ax and forestry skills! Aw, Emily Blunt with the beatific smile for her tiny adorable child who wants an electronic toy instead of the homemade felt toys his mom sewed! Look how they steam fish in a DIY steamer and eat a beautiful nourishing meal of ingredients they foraged themselves! Look how they tenderly dance to Neil Young's "Harvest Moon," the number one fucktrack for all married couples who move to Hudson and restore their own houses. You don't see an egg spoon, but I bet they have one and aren't afraid to enjoy it, even at the end of the world.