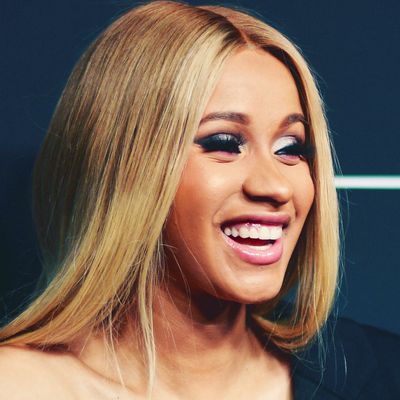 Cardi B.
Photo: Matt Winkelmeyer/Getty Images for GQ
Back in February, rapper and foreign-affairs expert Cardi B shut down pregnancy rumors in a truly iconic Instagram video, telling fans she was "just getting fat," and imploring them to let her "fat in peace." Now, sources are telling TMZ that Cardi would like to pregnant in peace, thankyouverymuch. The rapper is reportedly expecting a child with her fiancé, rapper Offset, and the baby is due the first week of July.
Rumors have been swirling about Cardi B's pregnancy for a few weeks. Last month, when she was performing at various Super Bowl–related events, TMZ reported that members of the rapper's team said she didn't want to party after her performance because she was pregnant.
Cardi is still scheduled to perform at Coachella next month, and if TMZ's sources are correct about her July due date, she will be about seven months pregnant while doing so.
Neither Cardi nor Offset have confirmed the news yet, but then again, the couple have had their hands full making fake sex videos and lighting up at Fashion Week events.