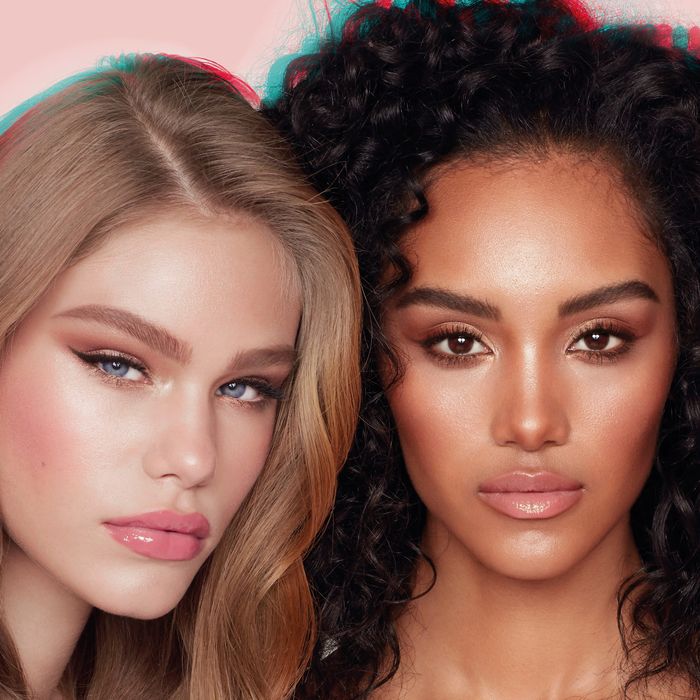 Charlotte Tilbury, Amal Clooney's makeup artist of choice, has created a new makeup collection dedicated to giving her enthusiastic customers a camera-ready look. Tilbury combined her love of makeup and technology to make the new Beauty Filters collection, which is the perfect counterpart to her illuminating Hollywood Flawless Filter "complexion booster."
To make your lashes look as long as any of the several bunny filters, Tilbury developed what she calls Legendary Lashes Volume 2, a long-wear, smudge-proof, humidity-resistant update to her original mascara. She also created two eye-shadow palettes, inspired by some of her celebrity clients. Each contain four shades, which are intended to prime, enlarge, define, and highlight the eyes. The first palette (Exagger-Eyes) has lighter pink and nude shades that were inspired by Emma Roberts and Gigi Hadid. The second palette (Transform-Eyes) has warmer browns and gold shades inspired by Naomi Campbell and Kaia Gerber.
For the cheeks, there are two Pretty Youth Glow Filter duos that include a blurring cream blush and a highlighter. The Seduce Blush compact gives a coral glow, and the Pretty Fresh one has pearly pink shades. Used together — highlighter stacked above blush — the idea is to make cheeks look lifted and sculpted. There's also a limited-edition blush bundle that includes one compact and a contoured brush.
Finally, Tilbury also formulated a new lip gloss that contains marine collagen, which purportedly creates a plumping effect for lips. The Collagen Lip Bath is an opaque milky pink that reflects light, to make lips appear fuller. When applied all together, the collection will make you look selfie-ready, but as always — an Instagram filter never hurts.
The first Beauty Filters collection product drops on April 19, with more coming throughout May and June.