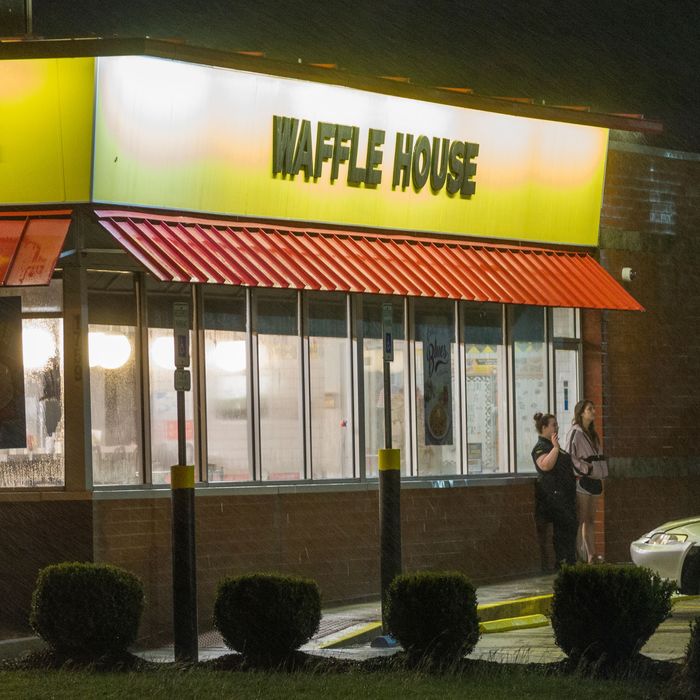 Photo: Mark Wallheiser/Getty Images
A video has surfaced on social media of three white officers arresting a 25-year-old black woman, Chikesia Clemons, at an Alabama Waffle House. Clemons's friend, Canita Adams, filmed officers pushing Clemons to the floor and holding her down.
Clemons's mother, Chiquitta Clemons-Howard, told Alabama Local the incident happened after her daughter asked for plastic utensils while placing an order at the Waffle House early Sunday morning April 22.
According to Clemons-Howard, a female Waffle House employee tried to charge her daughter 50 cents for utensils. Clemons and Adams responded by saying they weren't charged for utensils when eating at the same restaurant location the night before, Clemons's mother explained. The employee canceled the order but did not ask Clemons to leave, and Clemons asked for the district manager's contact information. As the two waited, Clemons-Howard said, police arrived.
In the video, which was shot on Adams's cell phone and released by AL.com, an officer holds Clemons's shoulder and wrist as she's sitting on a chair in Waffle House. The camera catches the same officer and another officer throwing Clemons on the floor, causing her shirt to fall low on her torso as Clemons attempts to cover her breasts with her arms. It is unknown from the edited video who initiated pushing Clemons to the floor.
Clemons is heard asking the officer, "What are you doing?" One officer responds, "I'm about to break your arm, that's what I'm about to do."
As Clemons continues to ask what's happening, one officer places a hand on her neck, while a third officer leans over to tell her she's being placed under arrest and to roll over. She's heard screaming, "You're choking me!"
"What am I doing wrong? What did I do wrong? Y'all haven't told me anything that I did wrong," Clemons asks.
Clemons-Howard told AL.com her daughter was booked on charges of disorderly conduct and resisting arrest, then released on $1,000 bond.
Later Sunday morning, the Saraland Police Department posted a statement on Facebook saying the department is waiting on the facts before delivering a response.
Clemons's arrest occurred ten days after two black men were accused of trespassing then arrested at a Starbucks in Philadelphia. A sit-in protest was held on afternoon at the same Waffle House, where AL.Com reported one protester was arrested.