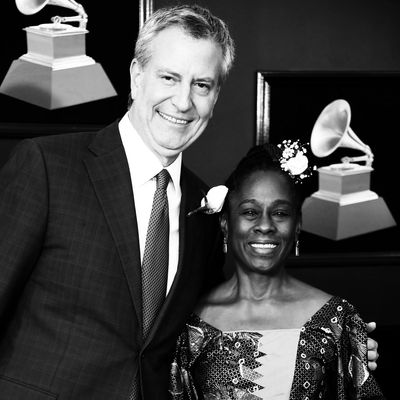 Bill de Blasio and Chirlane McCray.
Photo: Dimitrios Kambouris/Getty Images
As more states take steps to legalize marijuana, the question of whether or not New York will be next continues to come up. While Governor Andrew Cuomo said in January that he wants to conduct a "feasibility study" on the matter before moving forward, gubernatorial candidate Cynthia Nixon has said that she's "absolutely for" legalization. The issue was also raised on a city-wide level today, during a wide-ranging interview on The Breakfast Club with Mayor Bill de Blasio and First Lady Chirlane McCray.
When asked, de Blasio said he's "not there yet for several reasons." But McCray interjected to say, "I believe we should legalize it because I don't think people should be penalized and punished for using it, but I think it should be highly regulated."
"Anything can be a gateway drug, so if this is not highly regulated and we don't think about wellness of our young people, then they are very susceptible to being hooked on this," she continued. "I've lived through it … I loved marijuana when I was a young person, and I know it can be difficult to stop using." Her husband added that they're both wary of a possible corporate takeover of the industry.
According to a 2017 poll, 62 percent of New Yorkers support legalization.