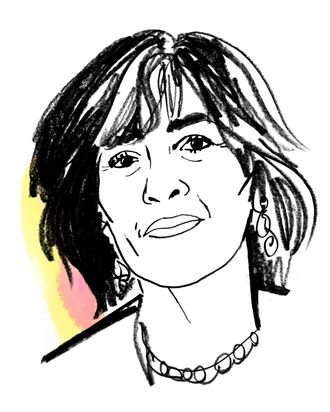 Christiane Amanpour.
Illustration: Lauren Tamaki
Christiane Amanpour can be pretty tough to pin down. The award-winning journalist has reported from war zones and the sites of natural disasters across the world, interviewed powerful politicians and nearly every respected celebrity you can possibly imagine, and, well, appeared on Gilmore Girls that one time. But now, CNN's chief international correspondent can usually be found in London, where she hosts Amanpour, the network's daily global news show (which also now airs on PBS during Charlie Rose's former time slot). On top of that, the anchor's six-part CNN series Sex & Love Around the World debuted in March. Here, how she gets it done.
On a typical morning:
I don't have to be at work until about noon because I have a late-evening live program. But I get up probably around 7 a.m., and the first thing I do is have a hot cup of boiling water with lemon. Then, a little bit later, I'll have a coffee. I'm always listening to the radio, so when I was living in the U.S. I'd wake up to "Morning Edition." Here, in London, the equivalent is called the "Today" program on BBC Radio 4. Just before I leave the house, I feed my dog and I take him out quickly around the block for his first walk.
On sleep:
I wish I could get more sleep — I'm a big, big convert to the concept of sleep. I realized that sleep was massively important about ten years ago, and I've been doing all that I can to get as much as I can. But the truth is, living in such a worrisome world and constantly having to be alert to everything that's going on in the world does eat into your quality of sleep and time of sleep. But I detox in the bedroom, so to speak. I don't have a TV, I don't bring my laptop, I don't look at the screen just before I go to bed. I read something before bed in a book or magazine.
How she works out:
About three or four times a week, I do sports in the morning — I either go to the gym or I play tennis. I also cycle from home to where I do my gym and tennis, and I cycle back.
Her work space:
I work in the heart of central London. I'm in the newsroom — that means there's lots of people in different desks and pods. I have an area where my team is, and where we talk and have the morning meeting. I also have an office of my own with glass windows that looks out into the rest of the newsroom. It's where I do my research, have meetings, and generally have a slightly more quiet and private space. And then there's the studio where do my interviews and the show.
On producing a daily show:
A lot of work goes into an episode. The show is five days a week, so that's a lot of material. My show is about interviews with world leaders and conversations about issues that are issues of the time and cultural issues as well. I also cover music, film, and books, and I obviously do political interviews — both U.S. and international. I have a team that does a lot of research and books the guests. I would say we all work 24/7. Everybody's on email all the time. They like the work we do; they're all very passionate about it.
Her travel necessities:
I always bring what I need for work when I travel: my laptop, briefcase, shoulder bag. I generally always take my safari jackets because that is an easy uniform to wear. I have several of those in different colors, and a whole raft of pants that are suitable for the field in different colors. I wear sensible shoes and I have a particular pair of Tod's boots, which are special because I've had them since the early '90s. They're very hardy and long-lasting, and they wear very well.
On staying safe in war zones:
I went to university and got my degree, but I didn't receive any special danger training or anything like that. I just went through what journalists go through. I joined CNN in 1983 at the very bottom after I graduated from university, and climbed my way up. There's not really a lot you can learn when it comes to staying safe in the field. It's like being a soldier and going out and facing what's out there. There's a lot of danger, so you develop your instincts — and I think I've developed a good gut about where to go, how long to stay in a dangerous moment, and when to notice signs to pull out.
How she spends her downtime:
I do make time for myself. I like going to movies, I like going to theater, and I like going to certain sporting events and museums to see art. I definitely like going out to movies and breakfast and lunch or whatever it is with friends and family. That's mostly what I do for myself. Occasionally I'm having a massage if I'm feeling stiff and in pain. I read of course. The latest novels I've read are The Sympathizer by Viet Thanh Nguyen and Commonwealth by Ann Patchett.
On taking over Charlie Rose's PBS time slot:
They needed some content, so they're running my show on PBS, which we're very happy about. It's really important to be able to report the world news and do it in a context that is relevant for Americans as well. That's basically what I do: I provide the world view, the global perspective, and that's very rare on American television. It's also a really great opportunity to report on American issues for my international viewers — especially the shootings coming out of the United States and the foreign policies coming out of the administration. And likewise from abroad to report for the American PBS audience what the world is thinking.
What she's learned covering sex around the world:
One of the most exciting projects I've worked on in a long time has been this six-part series about love and sex around the world. It's mostly done through women's and young girls' perspectives, but it's really a very unusual and somewhat unprecedented look at the complexity of sex, intimacy, partnership, and motherhood. It's not about talking to experts or famous people. It's all very much about ordinary people from all over the world. I go to Berlin, Beirut, New Delhi, and Accra in Ghana. There are amazing similarities between women all over the world and the crucial differences in culture. It's just so interesting.
On giving career advice:
The time to give women advice is over. Women can do exactly what men can do. If anything, this year has shown that that's absolutely the case. So I would give women and men the same advice, and that is follow your heart, follow your gut, follow your instincts. Journalism is about rigorous adherence to the truth. That's what you're going out to report — you're going out to find facts, the truth, and you're going to be the eyes and ears of folks back home who need and want to know what's going on in the world. Women have more than made their mark in this profession and there should be no more divisions of attention, labor, or rewards in the field of journalism.
Her nighttime routine:
I generally get home around 8 p.m. and I'm definitely quite tired, because it's been a heavy day mentally and physically. Often I do go out to dinner with friends afterward or I'll go out to the theater or a movie — but not every single night, because I also have to prepare for the next morning. Or sometimes there's great TV on and I watch that. I tend to turn the light off latest by midnight.