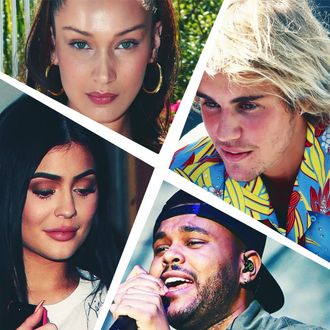 Kylie Jenner; Bella Hadid; Justin Bieber; The Weeknd.
Photo: Getty Images/Shutterstock
This weekend was the first weekend of the Coachella Valley Music and Arts Festival, the music festival in Indio, California, where celebrities and that one person from your high school go to wear tiny shorts and crop tops and say things like, "I'm at Coachella!"
Like most events centered around scantily clad attractive people day-drinking, Coachella Weekend 1 was full of drama. Here was the best of it:
Justin Bieber punched a guy!
Justin Bieber had a busy first weekend at Coachella. Not only did he meet the Walmart Yodel Kid, he spent a long time dancing like nobody was watching, and he punched a guy who was getting violent with a woman.
According to TMZ, Bieber was at a party with his friend Patrick Schwarzenegger, when the unnamed man entered, saw a woman sources believed to be his ex-girlfriend, and "went ballistic." The man, who witnesses said appeared to be on drugs, grabbed the woman by her throat and would not let go. Bieber and a friend reportedly went up and screamed at him to stop, and when he wouldn't, Bieber punched him in the face and threw him up against the wall, while the woman ran away. The man was escorted out of the party by security, and was later spotted chasing and banging on an SUV while screaming Justin's name. The cops reportedly arrested him shortly after.
Cool mom Kylie runs into her ex
Kylie Jenner showed up to the TAO x Revolve Coachella party on Friday with her new highlighter pink hair, and her boyfriend and father of her daughter Stormi, Travis Scott. Also at the TAO x Revolve party on Friday, according to the Daily Mail, was Kylie's ex, Tyga.
Kylie and Tyga dated on and off for about two years before breaking up in April 2017, the same month Kylie started dating Travis Scott. Apparently the encounter wasn't too dramatic, though, and Kylie and Tyga mostly ignored each other.
And speaking of Tyga …
Tyga and Iggy Azalea seemed to be an item
These shoes seem to be a clue about Iggy Azalea and Tyga's relationship status. Rumors about the two rappers have been floating around for some time. They appeared together on MTV's Valentine's Day edition of Total Request Live earlier this year, and, according to E!, have since been spotted in "a business meeting" and "roller skating" together. They also showed up to the first night of Coachella together, and fans noticed that the Vans Iggy is wearing in the above picture look remarkably similar to ones Tyga shared a picture of on Snapchat. Does that count as definitive proof they're kissing??
A Victoria's Secret model partied a little too hard
Victoria's Secret Angel Taylor Hill, pictured above in the face paint, had a bit too much to drink on Saturday, and TMZ filmed her being carried out of the Coachella grounds by some friends.
But the biggest drama of the weekend by far was …
The Weeknd's tangled web
Without a doubt, the biggest Agent of Chaos this weekend was The Weeknd.
He kicked off Coachella by performing tearful renditions of his songs "Call Out My Name" and "Privilege," which are rumored to be about ex-girlfriend Selena Gomez. The pair broke up in October 2017, after ten months of dating.
Clearly he wasn't that broken up about it, though. Later that night, he and ex-girlfriend Bella Hadid were seen "canoodling and being affectionate as she sat on his lap," during the Friday night pop-up debut of Kylie Cosmetics' Kourt x Kylie. One eyewitness told Us Magazine that the couple — who split in November 2016 after dating for almost two years — "were completely all over each other," and another said, "They are 100 percent back together."
Mmm, not quite yet. The next day, the singer was spotted flirting with Chantel Jeffries, a DJ and ex-girlfriend of Justin Bieber. According to E! they were seen "hugging" and "she also put her head on his shoulder." Ooh la la.
And lastly, this blessed image
It's dramatic how amazing this picture is.