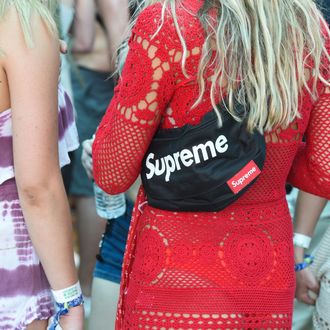 Coachella 2018 street style.
Photo: Presley Ann/Getty Images for Coachella
Rihanna encapsulated Coachella style in a nutshell when she described her festival outfit this year — a knotted Y/Project sheath paired with thigh-high Ugg boots — as being "extra af." This is the Coachella ethos: more is more is more. Even if when it's less.
Now in its 19th season, Coachella style is most often some combination of flower crowns, itty-bitty jean shorts, and colorful crop tops — a shameless millennial take on Woodstock and rave culture. The look has become undeniably cliché after all these years. (Publications will now offer guides on how to buy the opposite, in attempt to remain fresh.) And yet, somehow it still persists.
Why hasn't festival style changed with the times? With the rise in popularity of streetwear and athleisure, why are we still dressing like fast-fashion hippies? Perhaps it's because Coachella feels like the only place in the world we still can — where non-Rihannas are free to be their most Rihanna. Maybe it's because we're slaves to the 'gram, and wear whatever is the most eye-catching. Or maybe we just really like it.
If the answer, though, is that we haven't thought of anything better wear, then I think Kanye West has a solution. Just two-hours west of Coachella Valley, Calabasas casual — or some version of Yeezy sweats and sneakers — is the norm. The look was born at New York Fashion Week in 2015, when Kanye first debuted his line with Adidas. But the Kardashian Wests and their cohort, who call Calabasas home, have recently made the style a local phenomenon.
Clothes like Yeezy's are perfect for Coachella for a number of reasons. On a practical level, they're comfortable, light, and easy to move around in, which is good when you're standing on your feet for hours in the sun. (The Yeezy Season 4 "hellscape" on Roosevelt Island was basically a Coachella test-run.) The brand's sweats, cargo pants, and sneaker-boots are also particularly well-suited for desert conditions — insane heat during the day, cooler temperatures at night, and dust throughout. In fact, there's even a Yeezy shoe called the "Desert Rat."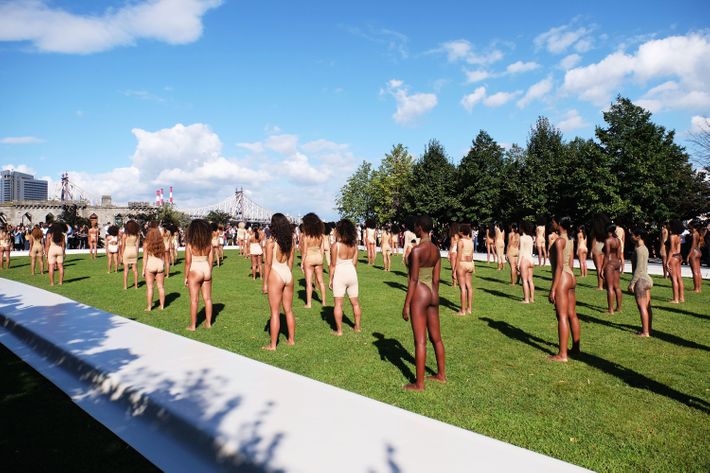 Comparisons are often drawn between Yeezy and Star Wars, but if Coachella Valley is our real-life Tatooine, then why not dress like a modern-day Luke Skywalker? If you're worried about standing out in a crowd, Yeezy is trendy enough at this point to catch the right peoples' attention — even without a logo or bright colors. Calabasas casual is extra in its own way.
I'm not saying that everyone should wear Yeezy to Coachella. Or forgo their desire to express themselves. If Yeezy isn't your vibe, try a Fenty x Puma dirt bike look. Or a Supreme fanny pack. Heck, if you're feeling really adventurous, wear this Gypsy Sport number made of cans. Any streetwear option seems like a better alternative than, say, a sequin romper. (How do you even wash that afterwards?) I'm merely offering Calabasas casual as a practical-yet-stylish alternative to the festival looks we've been seeing for nearly two-decades. Personally, I think it's time to sing a new tune.