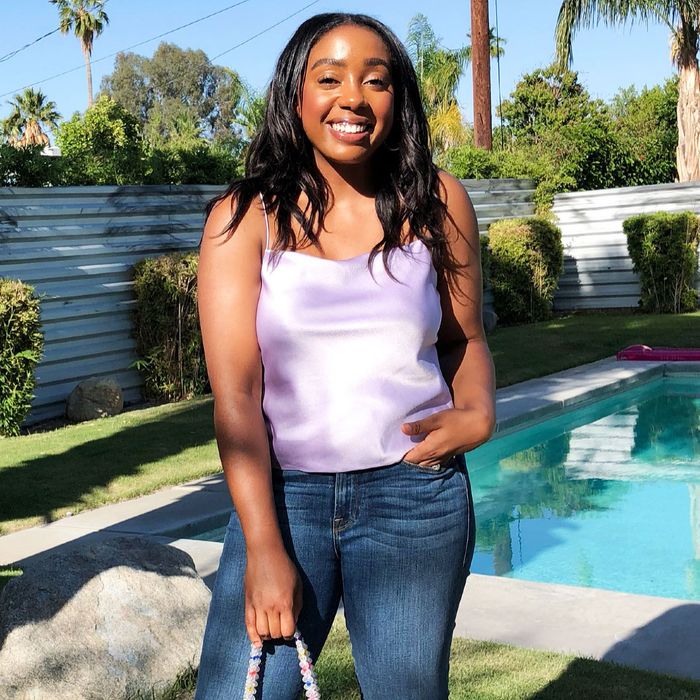 At this point I consider myself a Coachella expert, having gone for the past couple years now. I know exactly what to wear and pack, what's overdone (hello, booty shorts), and how to try out trends without looking like you're trying too hard. I'll be sharing all my Coachella outfits and fun events in this space, as well as on the Cut's Instagram, so check back here every day for an update.
I've learned my lesson — when going to festivals, wear something comfortable that's not sweatpants because there's a ton of traffic just to get there. This Aritzia slip dress is a favorite of mine when traveling because you can dress it up simply with heels, but also looks fun with sneakers. I added this printed Kooples kimono for color, which happened to perfectly match this gorgeous cherry red Lexus LC 500. It's been so much fun to drive around in the desert, and let's be honest, you can't show up to star-studded parties in anything better.
Day 2 is party central! From the massive Revolve Festival, the Fenty and Moschino parties, and Beyoncé headlining at night, it was a full day. I figured my best bet for the day was this slinky lilac top from Alice & Olivia, since I've been wanting to add in the trendy tone into my wardrobe, and I paired it with simple cropped jeans and platform heels. This beaded bag is from a new designer, Susan Alexandra, that I've been seeing all over Instagram, so I wasn't surprised that I got a million compliments on it everywhere I went. I finished off the look with mustard Sam Edelman platforms for a little color without overdoing it.
The last day of Coachella I had to be a bit extra and do a quick change in the middle of the day, but what can I say? It was needed. In the morning I ran around to pool parties and activations, interviewed Slick Woods on her collaboration with Mercedes Benz Fashion, and by the afternoon it was time for the Revolve Festival and Coachella. I've raved about my love for Mara Hoffman before, so this top was an easy pick for the morning, worn with wide-leg flare pants and retro sandals from Nine West.
Day 3, Part 1 Outfit
My quick change for the rest of the day was a bit more fun and airy for the festival. I love this top from Chrissy Teigen's Revolve collaboration — it's off-the-shoulder with trendy bell sleeves but the muted tone makes it look more sophisticated than similar styles. With jeans and simple block heels, it was one of my favorite looks of the weekend.
My last day in Palm Springs I could finally dress up as much as I wanted to since you can't really wear fancy things while walking through dirt and sand at the festival. This Zimmermann dress is even more gorgeous in person than I thought–it's in my signature color, cherry red, and to my surprise even though it's short it was long enough to cover my backside which I'm always concerned about with mini dresses. It flowed in the wind, and was such a joy to wear alongside this stunning beaded bag from Sensi Studio.
Day 4
If you buy something through our links, New York may earn an affiliate commission.