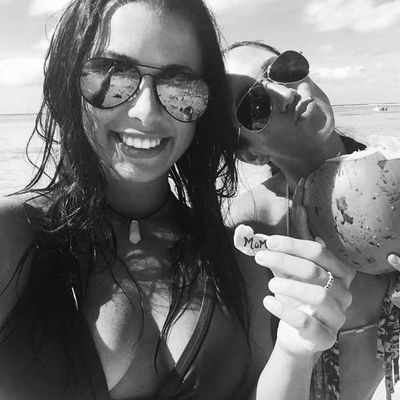 Melina Roberge and Isabelle Lagacé, pre–drug bust.
Photo: Courtesy of Facebook
The woman who was busted for drug smuggling after extensively documenting her luxury vacation on Instagram has been sentenced to eight years in prison.
The 24-year-old Quebec native Melina Roberge — who came to be known as the "Cocaine Babe" in the press — broke down crying in an Australian court upon hearing her fate.
Roberge and her accomplice, Isabelle Lagacé, were caught with 77 pounds of coke — which was worth $16 million — in their cruise-ship cabin in August 2016. Before docking in Australia, their $17,000 trip had taken them to locales such as the U.S., Bermuda, Colombia, Panama, and Chile — all of which was posted to Instagram. She said she was recruited into the smuggling operation by an unidentified man she referred to as her "sugar daddy."
"She was seduced by lifestyle and the opportunity to post glamorous Instagram photos from around the world," Judge Kate Traill said. "She wanted to be the envy of others. I doubt she is now."