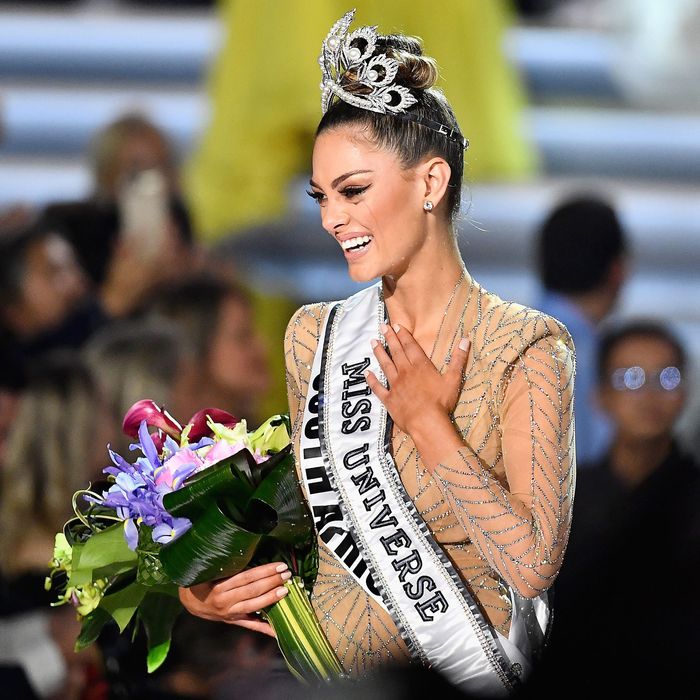 Demi-Leigh Nel-Peters, Miss Universe herself.
Photo: Frazer Harrison/Getty Images
There are few things that unite the whole universe. For living things, there is death. But what of energy? What of time? What does a caterpillar have in common with radiation? Even in this age of great division, it turns out there is something that unites it all: the vast darkness of dark matter, the rush of time, the internal fluttering of a springtime crush. And that uniting force is closer than you may think — particularly if you're me, a few days ago.
I recently had coffee with Miss Universe. We, along with a representative from IMG — the company that purchased Miss Universe from Donald Trump in 2015, after the president had a falling out with NBC precipitated by him calling Mexican immigrants rapists — met one morning at Ladurée, an adorable Parisian bakery in SoHo. The 22-year-old Demi-Leigh Nel-Peters, crowned Miss South Africa 2017 and then Miss Universe, arrived late: She was not yet accustomed to the New York necessity of specifying which Broadway you mean. (West Broadway, in this case.) But the small blunder was in direct opposition to her otherwise somewhat overwhelming poise — her posture; her flowing, shiny hair; her ability to speak for a very long time after every question I asked while making every word sound deliberate, something I personally am unable to pull off even when asked, say, my name, at an appointment.
What Demi most wanted to talk about (though, again, she was able to speak calmly and at length about whatever was brought up: dessert, coconut, farmers markets, my dog) (oh, except Donald Trump, about whom she said, "I wasn't involved when Donald Trump was, so I can't really comment") was her #Unbreakable program — periodic workshops she hosts that aim to teach women self defense in situations ranging from physical attacks to toxic relationships.
Her relationship with self defense started after she attended a workshop with the South African organization Women Empowered. "They gave me skills and knowledge for how to handle difficult situations. First, how to prevent them and — if something bad happens — how to think and react; how to get away in the safest way possible." In the luckiest of unlucky situations, her experience with Women Empowered came about three months before she went through a violent carjacking in Johannesburg. "In my carjack I immediately knew not to resist. I put my hands up, I didn't make eye contact, I didn't speak with them, I didn't argue with them, and he searched me — I knew he was going to search me, because I was told they would probably search you for phones or keys. I think once you expect something it's not as scary."
After searching her, one of the men tried pushing her back into her car. "That's when I said no. They were armed, all three of them were armed, and they had guns to my head. I was like you're right, you can shoot me right here, but I'm not going with you. I was like, either they're going to take me or they're going to shoot me, I might as well try and fight. So I punched the guy in the throat."
Oh my god!
"It gave me that split second to run away. I was super lucky."
Throat punching is the only real self defense "move" she was taught, and the only one she teaches through #Unbreakable. "I think everybody would think, no, I've got all kinds of other places to punch somebody — especially men — but punching somebody in the throat is lethal. It's really, really dangerous. And obviously it shouldn't be used unless your life is in a threatening situation." ("She stresses it is only to be used in a life-threatening situation," the IMG rep echoed, I assume fearing the headline "MISS UNIVERSE SAYS PUNCH A GUY IN THE THROAT — TRY IT NOW!")
When I asked what, exactly, you, uh, "win" when you win Miss Universe, her answer was the opportunity to travel to different countries for Miss Universe appearances (constantly, at a pace that made me tired just to hear about) and an apartment in New York City for a year. But, aside from those things, she said what she's "won" is mainly the platform she has to talk about this issue. "There are so many women, especially in developing countries like South Africa, that go through situations like that. And I really feel like it's a global issue. Even toxic relationships, violent relationships — women go through things like that and they think asking for help will make them seem weak, or they're ashamed of it."
But the platform does come with its challenges, particularly in the realm of social media. (She said after winning Miss Universe her Instagram follower count "went up from I think 65,000 to a million, within a month.") The day before I met with Nel-Peters, she had some trouble with a tribute to the late Winnie Mandela she'd posted to Instagram. She'd accompanied a photo with a quote from Mandela that Nel-Peters hadn't realized contained a reference to public executions. "I saw this beautiful quote yesterday and I wanted to post it but I thought, well, if I post this people are going to think I'm depressed or sad, but I just really saw it as encouraging." She subsequently removed the post and replaced it with a less specific tribute.
"I think people analyze you more, or it's just more people analyzing. So you have to really be sensitive toward people as a whole." So has she had to change how she thinks about social media? "Definitely I would say yes. But I still try and be Demi and have my personality and get that across."
Whether she gets recognized in public varies depending on where she is in the world, but when we'd met she'd just had a few unlikely run-ins with New York fans. "I haven't been stopped so much in New York, but yesterday I got stopped by three people. I came out of a building and this woman stopped me, like, 'You're Miss Universe!' And she was a New Yorker! I'm not used to New Yorkers being fans, because they're so blasé about it, you know."
On what she does with her limited time off in the city, Nel-Peters — who very charmingly peppers her speech with the phrase "oh my word!" in a way that makes me envious of my inability to pull off the phrase "oh my word!" — said she frequents the foot hall at the Plaza, asking if I've ever been. (I haven't.) "Oh my word, you have to go!" Otherwise, she said she's made a few friends here, and she likes to spend time with them. How, exactly, does one make friends not only in a new city, but a new country (she'd never been to America before the Miss Universe pageant in Los Angeles), and with the new job title "Miss Universe"? "It's usually awkward," she said.
Most of her friends are friends-of-friends or people she's met through work, but for those who do not already know, her title has to come up eventually. I asked how one brings it up — "Oh, the sash? That's from work…" — but she tends to let it happen naturally. "Usually [they find out] when they follow me on Instagram. They'll be like, 'Oh shiiiiiiiiit.'"
My coffee with Miss Universe led to few revelations about the universe in general, but at least one revelation about robots, which is not bad. Giving an example of an embarrassing first-time-in-America-giving-directions scenario, she explained that South Africans call traffic lights "robots." "So I'm like, 'At the red robot turn right.'"
Oh my word!
(See, it doesn't work.)