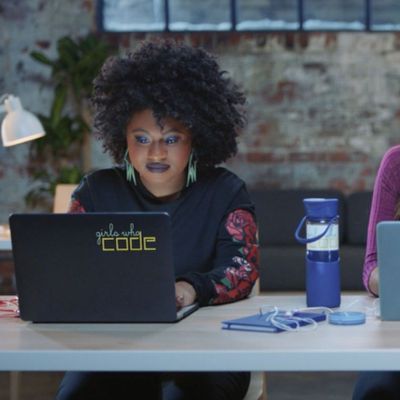 Photo: Courtesy of Covergirl
It's no secret that STEM training is becoming more and more important. Role models like Karlie Kloss and Yara Shahidi have talked about the need for more women to enter the tech field, and Kloss even started her own coding camp. As Teen Vogue pointed out, only 18 percent of computer-science degrees in the nation were earned by women in 2015. In order to help realize the potential in young women in these fields, Covergirl recently donated $50,000 to Girls Who Code to help provide the training and tools girls need to succeed.
Girls Who Code is an organization that's helping close the gender gap in the tech business with classes on coding. Covergirl said the donation and their Code Clean partnership is "in tandem with our own objectives of empowering women and breaking those glass ceilings that haven't previously been shattered."
To celebrate, the makeup brand released a short promotional video this week, which includes three young women, Abbey, Danille, and Anna, who are part of the Girls Who Code organization.
Covergirl also recently redesigned its entire brand and is promoting the redesigned Clean Collection alongside their collaboration, because sometimes you still want to look nice even when plugging away at work. The collection includes BB creams, foundations, and pressed powders that work to keep skin matte through the day and long nights working on new algorithms and making our lives easier.
The Clean Collection is available now and the product packaging will be gradually updated.