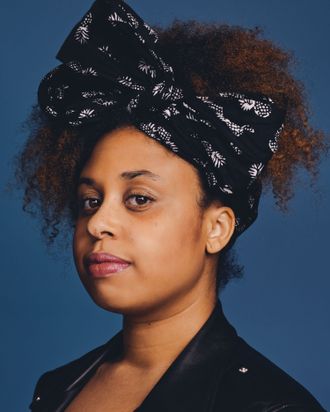 This month, WNYC's Note to Self and the Cut collaborated on a project to explore the question of what it means to be a woman online. Together, we have created a special series of podcasts and portraits called No Filter: Women Owning It Online.
Manoush Zomorodi spoke to Erica Joy Baker, Lele Pons, Trace Lysette, Amy Sherald, Christiane Amanpour, and Barbara Kruger about how they use the web to curate versions of themselves, question cultural standards, and be heard. The Cut's Allie Jones, Noreen Malone, Allison Davis, Ann Friedman, and Stella Bugbee joined in on the conversation and shared some of their own thoughts about living and working as women online.
We also invited other women to share their own experiences by leaving voice notes about what it feels like to be a woman moving around the Internet today. In the above episode, we've collected some of those responses, which included everything from the disconnect between real life and how we portray ourselves online to analyzing the choices we make about what to keep private.
As a coda to the series, Zomorodi was joined by Jasmyn Lawson, a 26-year-old former culture editor at GIPHY (yes, a GIF editor), who is on her way to a new post at Netflix working in social media. While she was at the startup, Lawson's role was essentially curating the set of images that so many of us use to express ourselves and our reactions online. They talk about everything that entails, from the visibility of black women to the co-opting of "digital blackface." Scroll down to listen.