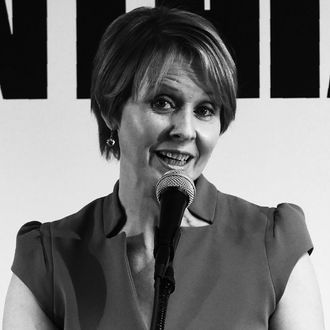 Nixon at her inaugural campaign event in March.
Photo: Timothy A. Clary/AFP/Getty Images
In the weeks since Cynthia Nixon announced that she's running for governor, it's become clear how she and opponent Andrew Cuomo are planning to deal with each other. Cuomo has repeatedly either brushed her off or condescended to her, in an attempt to telegraph that he doesn't find her threatening. Nixon's strategy, meanwhile, appears to be continually annoying the famously thin-skinned governor.
From the very launch of her campaign, she's said he's not a "real Democrat." She's brought attention to the corruption charges plaguing his staff and the subway problems plaguing every single New Yorker who's trying to get to work on time. She's deftly reacted to criticism with a sense of humor — a trait the governor notably lacks.
Then, there was Nixon's most recent jab at Cuomo, which came via an interview she gave to the New York Times Magazine:
You've met Governor Cuomo.

I have met him.




What is he like in real life?

I don't want to insult him.




If you win the primary, what do you think he might do once he's out of Albany?

I think he could do very well in corporate America.
It's short, sweet, and — if you listen closely enough — you can hear the governor yelling all the way from Albany.