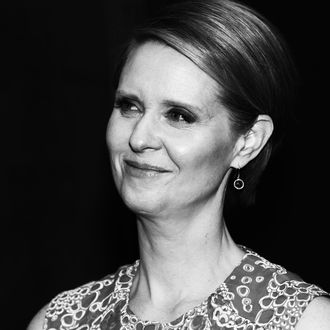 Cynthia Nixon.
Photo: Jared Siskin/Patrick McMullan via Getty Image
If you go to New York gubernatorial candidate Cynthia Nixon's donation page, you'll find standard contribution buttons for amounts like $25, $100, $250, and so on. There's now also a smaller and more specific option: $4.20 (the weed number).
This addition comes after Nixon released a popular video on Wednesday elaborating on her stance for legalizing marijuana. Though she had previously voiced her support at a private fundraiser, on the Wendy Williams Show, and in an interview with The New York Times Magazine, this particular instance brought the issue to the forefront of her campaign.
"We have to stop putting people of color in jail for something that white people do with impunity," Nixon explains in her video. "Eighty percent of the New Yorkers who are arrested for marijuana are black or Latino, despite the fact that whites and people of color use marijuana at roughly the same rates."
Her stance is a clear departure from that of opponent Andrew Cuomo's, who has called for more "studies" before moving forward on legalization.
The $4.20 donation button is reminiscent of Bernie Sanders's call for $27 donations — a shrewd strategy for appealing to younger voters who may not have much disposable income to give.
As for the tone of the venture, Nixon has demonstrated an ability to balance serious talking points with levity and a sense of humor. It also certainly doesn't hurt that the majority of New York voters support legalization.