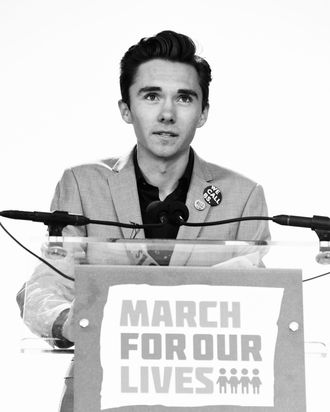 David Hogg.
Photo: Kevin Mazur/Getty Images
In the months since the horrific shooting at Marjory Stoneman Douglas High School, vocal survivor David Hogg has faced numerous attacks for speaking out against gun violence: Conspiracy theorists have branded the teenager a "crisis actor," and last month, a House candidate called him a "bald-faced liar." The most recent person to go after Hogg was conservative TV host Jamie Allman, who tendered his resignation after facing criticisms for threatening to penetrate Hogg with a "hot poker."
Amid Hogg's calls for advertisers to drop Laura Ingraham's show after the Fox News host mocked him, Allman, who hosted a nightly TV show on KDNL in St. Louis, went after the teenager on Twitter.
"When we kick their ass they all like to claim we're drunk. I've been hanging out getting ready to ram a hot poker up David Hogg's ass tomorrow. Busy working. Preparing," the tweet read, which was quickly deleted.
But it was too late. Screenshots of the tweet began circulating online, and multiple advertisers began to pull funding from Allman Report.
On Tuesday, Sinclair Broadcast Group — which owns KDNL, and has itself come under fire for requiring its local news anchors to condemn "national media outlets" for publishing "fake stories" — confirmed the resignation to CNN.
The host has yet to comment on the resignation.