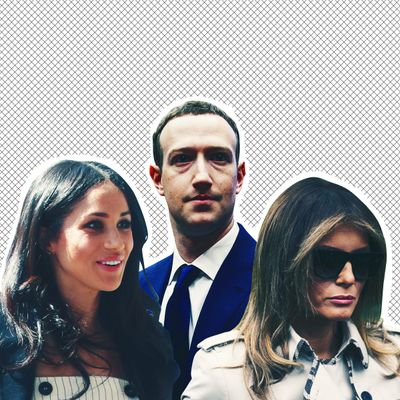 Meghan Markle, Mark Zuckerberg, and Melania Trump.
Photo: Getty Images
Dawnn Karen, the lone leader in the field of fashion psychology, thinks that Melania Trump wears her coat over her shoulders to create a "protective shield" and that people who wear capsule wardrobes are searching for a sense of security. Suddenly Karen is the hottest new fashion critic/stylist around, popping up everywhere to explain how people develop their personal style through psychology. Just this morning, she appeared on Good Morning America and was featured in the Daily Mail, decoding Melania Trump. Last week, she had a feature in the New York Times.
Karen has developed her own lexicon of terms such as "mood enhancement theory" and "repetitious wardrobe complex" to describe why people buy the clothes they do. Mood enhancement theory explains how a single item can boost someone's mood, while repetitious wardrobe complex explains the psychology behind wearing the same thing over and over. In addition to her academic writing, Karen offers a list of services to businesses and high-profile individuals looking to keep their image in check.
Karen received a masters in counseling psychology from Columbia and credits Harvard professor Henry James with starting the Fashion Psychology field (which she has trademarked). She teaches classes at the Fashion Institute of Technology in New York about the psychological implications of items like hoodies and undercuts. Her analysis is similar to that of a fashion critic, but with science-y labels attached to various phenomena.
While she's currently having a moment, she's been quoted for years in articles explaining various celebrities wardrobes — from Meghan Markle to Mark Zuckerberg. She also told Nylon that the prime minister of Ukraine asked her to give a speech at his annual security forum to explain the politics of style to officials and dignitaries.
Suddenly, a niche quote explaining a trend has turned into something both Times and Daily Mail readers can be fascinated by. The practice of explaining motives and meanings behind appearances isn't new, but the scientific lens is unique to Karen. While we're searching for something to help explain the world we live in, Karen has developed an explosively popular tool.