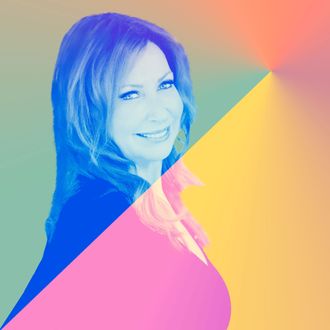 Photo-Illustration: Stevie Remsberg
Manicurist Deborah Lippmann remembers when Oprah used to claim that she wasn't a "nails person." The two met on-set for O Magazine's first cover shoot, in 2000. For most people, meeting Oprah changes them, but in Lippmann's case it was the other way around.
"I was working on the shoot for Vanity Fair's big Hollywood issue, and, you know, there are a lot of huge celebrities. Oprah walks in, sees me in the hair and makeup room and screams, 'DEBORAH LIPPMANN IN THE HOUSE!' Then she holds her hands up and wiggles them toward me: 'Look! I'm wearing your Fashion shade right now!' I was mortified."
She wasn't really mortified, but she remained calm, a trait which is probably the fourth reason that Deborah Lippmann is booked whenever there's a memory to be made (reasons 1–3 being her skills, her polishes, and her speed. Have you counted how many hands were on this year's Vanity Fair Hollywood cover? Reese alone had three!) She was there for the magazine's Caitlyn Jenner cover, she was backstage when Gaga crawled out of an egg at the 2011 Grammys and she was with Allison, Lupita, and Reese hours before they won their Oscars. Maybe Reason No. 5 is that she's a good luck charm.
Armed with a music degree from Arizona State, the Phoenix native first pursued her singing career, but needed a way to pay the bills. The admittedly awful waitress enrolled at the local Allure School of Beauty (no relation to the beauty magazine she would come to be featured in multiple times). Upon learning that manicurists could sit (versus hairstylists who have to stand), the performer had found her "major." Music led her to Los Angeles, where she also did the nails of every celebrity from Audrey Hepburn to Betty White. Next came New York, where she landed a spot at the Frederic Fekkai salon. In 1999, she and husband Jude Severin founded her eponymous polish and nail care line.
To date, Lippmann polishes are in 35 countries, with more than 60 shades, including best sellers "Grey Day" (with designer Jason Wu), "I Put a Spell on You," and "I'm My Own Hero," as well as a slew of celebrity one-offs that have been created for Cher, Mary J. Blige, Kelly Clarkson, and the cast of Girls.
She still performs too, with three albums under her belt. In a matter of days, she will be singing "Time to Say Good-bye" at an Andrea Boccelli Foundation benefit concert in Phoenix.
"I'm singing it in Italian. I haven't sung in Italian since college!" she says. "Apparently, I'm even singing it in my sleep. My husband just loves being awakened by that."
Lippmann took a few minutes from rehearsing to speak with the Cut about meditation apps, her bipartisan take on pizza and why she wears two different size Louboutins.
What do you cleanse with? La Prairie Foam Cleanser.
Scent of choice? Jason Wu.
Shoe of choice? Louboutin Very Prive, I have them in four different finishes. I once lost one in a peau de soie fabric that he doesn't make anymore. My husband's like, "How could you lose one shoe??" But I leave them in cars because I don't want to ruin the bottoms by wearing them on sidewalks. I finally found a pair on eBay. They're a half-size too big, but I bought them anyway. Now I walk around with one shoe that's a half-size too big, which I suppose is better than wearing both shoes that don't fit.
Jeans of choice? Frame.
Comfort food? Pizza. All kinds. From pepperoni to flatbread.
Comfort music? Diana Krall's bossa nova album.
Preferred fancy underwear and daily underwear?  La Perla for fancy, Victoria's Secret for every day.
Go-to karaoke song? "Respect."
What person, place, or thing has most recently surprised you? I had a session doing Acro Yoga with Jason Nemer who works with a lot of my celebrity clients. I didn't think he would be able to get me in the air and, boy, did he! It's my favorite new workout and peaceful place.
Who do you wish you could meet? President and Michelle Obama.
Talent you wish you possessed?  Ballet dancing.
Favorite spot in the entire world?  Miraval Tucson. Every time I'm there, something new and magical happens to me and heals me.
What phrase or word are you known for saying?  "I like what I like."
What are you afraid of? Being on Broadway and NOT being on Broadway
What is always in your fridge? Perrier.
What should Pantone's color of 2018 have been? I think they hit it on the nose, what with the royal wedding and all.
What are you working on mastering? Singing.
What do you splurge on? Jewelry.
Weakness? Peanut M&M's. And not being able to say NO.
Preoccupation? Thinking about what's next for the company. What color is next? What treatment is next? What could we create that would make our customer's life easier, make her hands prettier, help her nails grow?
Favorite App: Calm. It's a meditation app. I try to use it in the morning, but I'm not an early riser, so it's all I can do to get to the office on time. I recently learned that you only need to meditate for one minute, so now I try to do it before bed.
What or who makes you laugh? Debra Messing on Will & Grace, and Jerrod Carmichael from The Carmichael Show, which I'm sure was canceled by MISTAKE, NBC. At least he is still on HBO. He is hilarious and smart.
Favorite meal and where? Yellowtail sashimi, Wagyu beef tacos, black cod and tuna sashimi salad at Nobu. Any Nobu. It's my go-to.
Favorite time of day and why?  Bedtime. I love lying there with my husband, talking through the day about what we did right and what we can strive to do better, all while gazing at the glorious NYC skyline and the river. It just brings me peace.
What product in your domain is misunderstood and should be a best seller? Our cuticle remover.
What do you foresee as the top beauty trends in 2018? Nails, nails, and more nails!
If you won the Powerball tomorrow, what are the first five things you would do (after, of course, donating the majority of it to your top charities …)? Buy my mom a house and give her 24-hour care in her home, buy my brother a house, travel and see every place I've dreamed of seeing in style with my best friends, and buy an apartment in the city and a house in L.A.