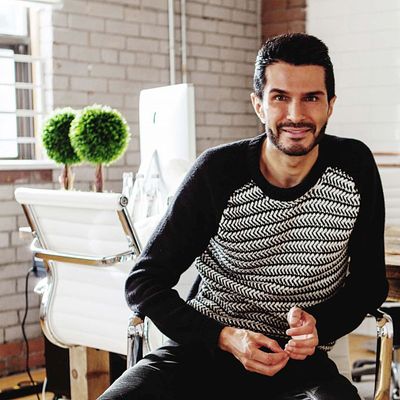 Brandon Truaxe.
Photo: Courtesy of Deciem
It's been 40 days since Deciem's last Instagram kerfuffle and hiring shake up, but there's new drama from the affordable skin-care brand. Deciem, parent company to The Ordinary, appears to have laid off its entire U.S. team. There's another high-profile person leaving the company, the brand's posts on social media continue to trouble its fans, and CEO Brandon Truaxe is taking to the comments.
According to Very Good Light, the brand's entire U.S. team, including its PR executive, Dakota Isaacs has been let go. Racked confirmed that Isaacs is no longer with the company. Considering the company's aggressive plans to for U.S. expansion (there were rumors of there being up to six new store openings in NYC), sudden turnover of this nature is surprising.
Truaxe has been getting personal again on Instagram. A few weeks ago, Truaxe posted on the brand's Instagram account about an incident he described as "racist" that he and a team member encountered at the Ham Yard Hotel in London. In his post, Truaxe reported that Nigerian team member Oshouli Hangeinge (who he credits for helping to build a factory supplying marula oil) was the only one singled out and harassed for his room at the hotel. Truaxe then called the hotel a "racist hell," and told Instagram that his counsel would begin filing a claim "for actual and punitive damages." He also pledged $100,000 to promote the post on social channels (reposting the same thing on his personal account, @BTruaxe). Response to this post was positive, with commenters exuberantly proclaiming, "THIS IS WHY I WILL ALWAYS CONTINUE TO SUPPORT THIS BRAND!!!!!!!!" It's hard to picture CEO Leonard Lauder doing something similar on the Estée Lauder brand account.
Yesterday, Truaxe used Deciem's Instagram to voice his displeasure over a Sunday Times profile of him published two years ago. He commented as @Deciem on the magazine's Instagram, calling the photo accompanying the story "hideous" and the editor of the story "sloppy [and] careless." He also insinuated that the piece, which describes the Botox in his forehead, identifies his complexion as a "famous" level of tan, and quotes him as saying, "Smiling is dangerous — it gives you wrinkles," as having many "wrong 'facts'." Truaxe tagged Deciem's Communications and PR Director, Dionne Lois Cullen and added, "Please do not ever do anything again with this irrational group."
Then, @Deciem posted nine Instagrams in a row. One was of a seemingly homeless person in front of the brand's upcoming Fifth Avenue store with the comment, "Never disrespect a harmless human in need of care." Commenters called out Truaxe for posting the picture without consent, some labeling it exploitation. "The fact that a photo of a man was used without consent and compensation on a page that promotes a product is probably not the right way to handle this problem," user @FromMyBubble said.
Racked reports that in a defensive move, Truaxe posted a user's critical comment on Deciem's account, along with her user information with her name and face. Multiple users and Redditors flagged this to Instagram, calling it out as inappropriate as the user's account was private. The user @NicolePrinty replied in the comments, "This is my private profile. Did I consent to a company posting me on their public profile, no."
Responding to claims of bullying, Truaxe deleted the post and apologized. Publishing a photo of a sneaker in clay dirt, he writes, "I did not intend to attack or humiliate anyone. I was defending the attack against us for the original peaceful and loving post. I will now delete the post out of loving respect for you. The original post still has my words of peace if you ever wish to read them. I'm sorry I could not convey our message well."
Three new posts have gone up since the apology. The first is a video from a new, third factory in Toronto that Truaxe announced is in the works. The second is a greeting video from Hangeinge and a co-worker to Truaxe from Namibia. The third praises innovation Truaxe spotted at the MoMa Design store, and also announces that The Ordinary will be releasing five new products next week.
Truaxe's unfiltered Instagram posts have people concerned over the stability of the company, and whether they should just give up on their favorite inexpensive chemical peel already. But it's also raised an interesting discussion about the level of awareness and vigilance required to be a modern-day, seemingly "woke" consumer. On Reddit's Skincare Addiction board, which prior to the brand's Instagram scandal was one of its biggest supporters, users feel conflicted over whether it's ethical to support the company if they find Truaxe's actions problematic. "Maybe it's not that bad — or maybe it is? But my skin looks so good," they waffle.
Some continue to praise Truaxe's transparency, insinuating that other companies are equally as problematic but just have "better PR" (and presumably, restricted access to the brand's official Instagram account). Reddit user CommonModeReject says, "Remember this is all just social media, and the ONLY difference between TO [The Ordinary] and someone like DE [Drunk Elephant] or Este Lauder [sic] is that they have better PR." In a sense, this is true. The public can only be this incensed about the brand's actions because Deciem and Truaxe choose to allow them to see all of it: The "dirty laundry," the occasional pettiness, the personal, the unfiltered, the good and bad, all on social media.
The openness also points a spotlight at the brand and Truaxe's practices that isn't being pointed at more traditionally conservative brands with layers of PR and corporate communication. As Reddit user AcrylicVintage_ writes, "Although I worry a bit about quality control, the fact is, if I feel that strongly about Brandon then I should be looking into the background and CEO's of every single brand I buy." Whether Truaxe's actions should be praised or restrained and the effect that this has on sales, remains to be seen. In the meantime, there are other affordable The Ordinary alternatives.