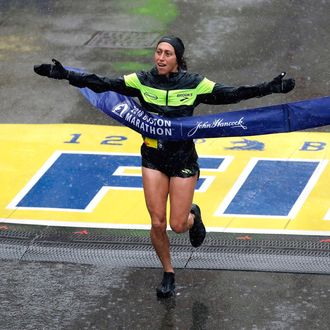 Desiree Linden crossing the finish line.
Photo: Charles Krupa/AP/REX/Shutterstock
Today, Desiree Linden became the first American woman to win the Boston Marathon since 1985 — overcoming frigid temperatures, strong winds, and heavy rain to claim the victory.
Linden, 34, finished with a time of 2:39:53. On the men's side, Yuki Kawauchi of Japan won with a time of 2:15:53.
In November, Shalane Flanagan became the first American woman to win the New York City Marathon in 40 years and had set her sights on Boston as well. (Footage from the race shows Linden waiting for Flanagan when she took a port-a-potty break about an hour in.)
"I'm thrilled. I'm exhausted. I left it all out there. Now I'm ready to warm up," Linden said to CBS Boston after the race. "It hurts right now, but it's a perfect day for me.