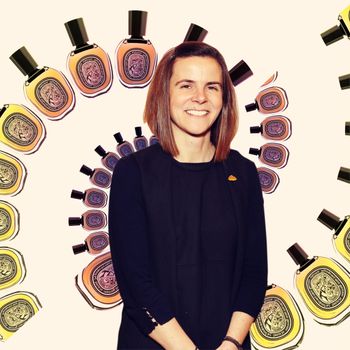 Myriam Badault.
Photo-Illustration: Stevie Remsberg
Call it the Proust effect: Memories are best triggered by smells. Scientific studies confirm that out of all the senses, smells and fragrance offer the best recall. Our new feature, Scent Memories, will ask its subjects to talk about the scents they associate with different emotions and thoughts. Next up is Diptyque's creative director (a dream job if there ever was one), Myriam Badault. Currently, the brand is hosting a pop-up on Mercer Street in Soho to celebrate the launch of their two new perfumes — Tempo and Fleur de Peau — and the 50th anniversary of their first scent. Both new perfumes are inspired by the 1960s, but Fleur de Peau is an ode to musk, with a hint of pink peppercorn. Tempo is a free-spirited blend of patchouli, sage, violet, and maté. Badault spoke with the Cut at the pop-up about the smell of her favorite snacks growing up, and why she loves musk and geranium.
My first scent memory: It's very sweet. It's the scent of cake crushed in hot milk. It's the smell of childhood for me. It was something we would have in the early afternoon as a tea.
Love smells like: Musk. It is good at evoking the skin. It's powdery and a very human raw material.
Friendship smells like: Geranium. The flower is both masculine and feminine. It has a very traditional facet, like rose, but it has the happiness and sharpness of a spice. So for me, it's like friendship. It's something you can rely on, but it brings you happiness.
Heartbreak and loss smells like: That's difficult. Galbanum is green and bitter like sadness.
Regret smells like: Incense. Because for me it's very linked to mysticism and the spirits and regrets belong to the past.
Sunday morning smells like:  Coffee — when the beans are crushed it releases the smell.
If I could have one scent on my hands forever: Ambrette seeds. For me it's a very intriguing smell. It comes from a flower, but doesn't smell like one. It's fruity, amber-y. There's something very reassuring about it. It reminds me of cornflakes but also Prosecco.
A pleasant surprise smells like: Champagne.
Happiness smells like: Geranium — it's sparkling.
Monday morning smells like: It's like a back-to-school smell, so I'd say cedar wood. It smells like pencils.
I smell like: It's a funny question because it's very layered. It's all the products I use and I use very scented ones. I like geranium oil, which is a very strong scent. I know I have a smell that's many things. Mostly musk scent, because that's my favorite scent universe. I think musk is a common link between all the smells I really like.