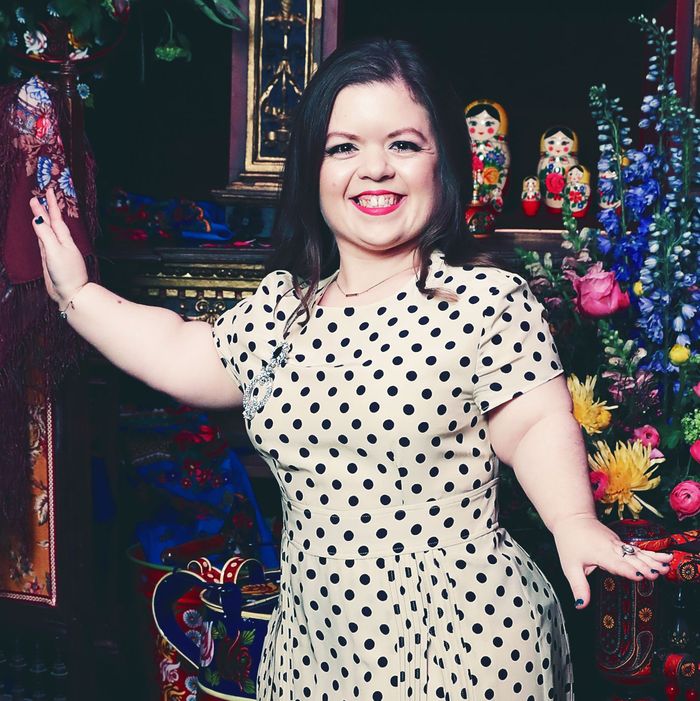 Sinéad Burke.
Photo: John Phillips/Getty Images for The Business of
Who would you choose to share an "influence"-themed magazine cover alongside the one and only Kim Kardashian West? Business of Fashion chose Sinéad Burke, a disabled fashion activist. While Kardashian West went with her signature slicked-back, contoured glossiness for her cover shot, Burke went a more punk route. Her cover shows her cutting up a Burberry trench with a pair of scissors. Very Vivienne Westwood.
Many were introduced to Dublin-based Burke when she gave a TED Talk titled "Why Design Should Include Everyone." At three-feet, five-and-a-half-inches tall, Burke can name the, "exact gene that switched off her growth receptors," according to her BoF profile. She's since become an advocate for inclusive design both on social media and behind-the-scenes.
In the past year, she's reportedly met with Joe Biden, RuPaul, and Oprah Winfrey. On social media, she's amassed a following for her mix of style and activism — offering her own twist on an oft-used combination (just look at Gen-Z starlets like Yara Shahidi or Rowan Blanchard). Part of her style is her full Burberry wardrobe, which was made for her after an exec saw her TED Talk. Per BoF:
"We're no longer in an era when we can enforce a distance between the corporation and the customer," she agrees. "Social media has bridged that gap by uniting a whole new customer base in the conversation. It no longer makes financial sense just to accommodate the bell curve of society, because people invest in people. Which means they're more and more willing to invest in a brand with a human story."
Read the full profile here.