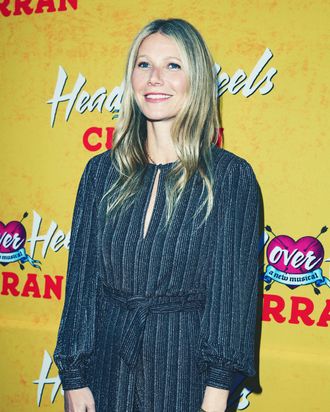 There she is.
Photo: Kelly Sullivan/Getty Images
On Wednesday night in San Francisco, Gwyneth Paltrow — actor, mother, lifestyle guru, person who saved a woman's life on 9/11 by almost running her over with an SUV — appeared at the pre-Broadway opening of Head Over Heels. On her body was a striped jumpsuit. On her ring finger, a ring. And what was on that ring? I'm so glad you asked. E! Online has a guess:
"Paltrow sported a chunky gold ring with the initials "BF," an unmistakable nod to her fiancé Brad Falchuk."
Hm. An unmistakable nod to her fiancé Brad Falchuk? That's certainly one theory. I'd like you to turn your computer upside down and take a look at this image: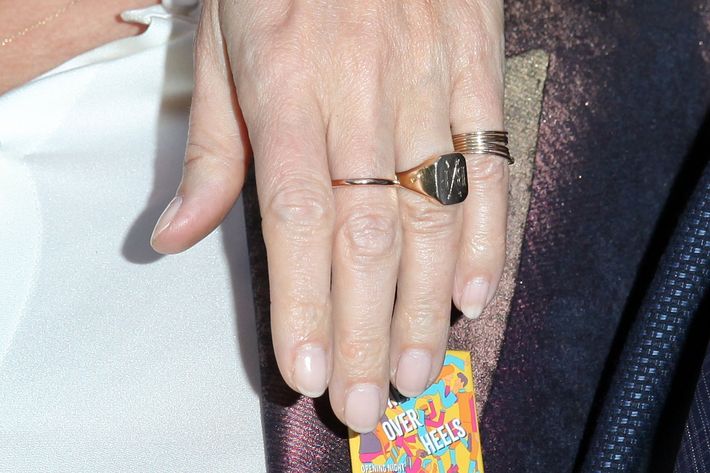 What does it mean? It's an interesting mystery. I've got some guesses, do you? Okay, I'll go first. Does it mean:
Brad Falchuk?
This is E!'s theory, as you may remember. Brad Falchuk is the co-creator of Glee and Gwyneth Paltrow's fiancé. Does "BF" mean Brad Falchuk? Or does it mean:
BuzzFeed?
Hmm. BuzzFeed is a popular website featuring quizzes and news. A favorite of Gwyneth Paltrow's? It could be. Does "BF" mean BuzzFeed? Or does it mean:
Best Friend?
A best friend is someone you trust; she is the best of your friends and certainly deserving of a ring. Does "BF" mean best friend? Or does it mean:
Ben Franklin?
Ben Franklin is a multi-hyphenate from the past. He is a big deal in Philadelphia, the Pennsylvania city. Does the "BF" on Gwyneth Paltrow's ring stand for Ben Franklin? Or does it stand for:
Bobby Fischer?
Oh, now this is interesting. Known for chess and other things, it is possible that Bobby Fischer is the subject of Gwyneth Paltrow's ring. Only Gwyneth knows for sure, unless she's told other people. Is he the subject of the ring? Or, actually, no — is this other Bobby the subject of Gwyneth Paltrow's ring:
Bobby Flay?
Oh my god. This is shocking. Bobby Flay, some sort of chef, is famously the rumored father of January Jones's baby. I obviously don't want to start any trouble and hate to gossip but could the ring mean … Bobby Flay for reasons Gwyneth Paltrow has so far kept quiet but is now obviously dying to talk about? It's possible. Or do you think it's:
Babyface? Or Baby Face?
Baby face, you've got the cutest little baby face. There ain't nobody can ever take your place. You baby face. My poor heart's jumping! You started something. Or is it Babyface, the musician? Or is it the West African country —
Burkina Faso?
A Google search of "Burkina Faso Gwyneth Paltrow" doesn't bring up relevant results, but all women have their secrets. So is it Burkina Faso, or what? What do you think? Could it be:
Big Foot?
Oh my god again. What does Gwyneth Paltrow know that we don't? Something about big foot? Or do you think it maybe means:
Bob Friend?
Former starting pitcher for primarily the Pittsburgh Pirates Bob Friend is a candidate. Gwyneth Paltrow is from Los Angeles but allegiances can be difficult to predict, so we can't rule out Bob Friend. Or I suppose it's possible that the "BF" on Gwyneth Paltrow's finger means:
Brian Feldman?
The ring is a potential nod to Brian Feldman, an Associate Editor at the Cut's sister-site "Select All." But wouldn't Gwyneth Paltrow's favorite New York Magazine site be the Cut? It's true that it would. Instead, it may mean:
Bachelor of Finance?
Gwyneth Paltrow studied anthropology at the University of California, Santa Barbara, before dropping out to pursue acting. Is getting her bachelor's degree in finance a long-held desire? It's possible. Or do you think the "BF" ring means:
Butterfly?
A little butterfly? Or:
Boy Friend?
A boyfriend?
It's tough. I don't think we'll ever know for sure what the "BF" ring on Gwyneth Paltrow's finger was attempting to indicate, but mysteries like this can be part of what makes life fun. Let me know what you think the "BF" may stand for by saying it out loud now.
Thank you!