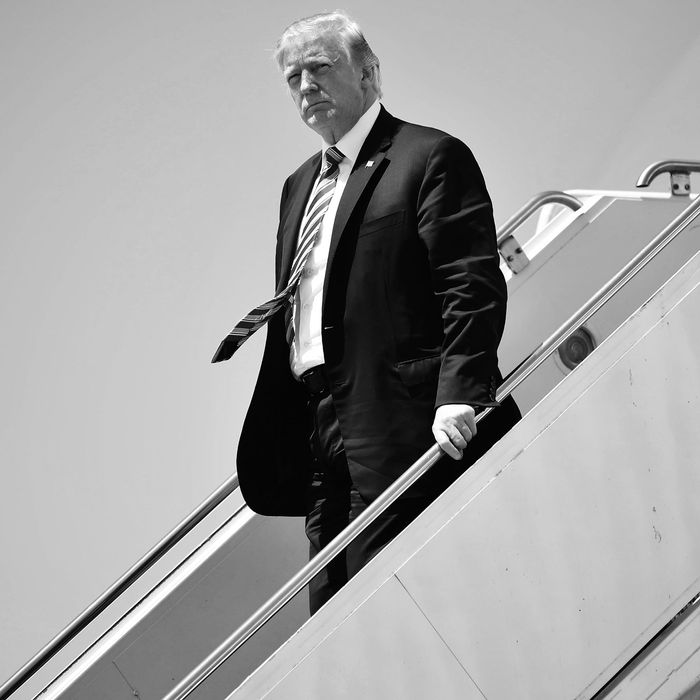 Donald Trump.
Photo: MANDEL NGAN/AFP/Getty Images
Thursday evening, the Justice Department delivered to Congress James Comey's memos, which document the former FBI director's early encounters with Donald Trump. Unlike the Nunes memo, the 15 pages of notes that multiple media outlets obtained don't disappoint: There are numerous mentions of the pee tape, a concern about former national security adviser Michael Flynn's judgment, and an alleged comment from Vladimir Putin about Russia's prostitutes.
There's also one sentence, which Comey wrote during his first meeting with Trump, that references the long list of women who have accused the president of sexual misconduct. In the memo, he writes that Trump "started talking about all the women who had falsely accused him of grabbing or touching them (with particular mention of a 'stripper' who said he grabbed her) and gave me the sense that he was defending himself to me."
Okay, so that's it. Not a whole lot of new insight there.
But wait — there is something interesting. As the Daily Beast notes, Trump has faced allegations from at least 20 women, but none from a stripper with groping accusations.
Sounds like someone was either conflating two experiences (perhaps one with Stormy Daniels?) or more allegations have yet to surface — or, perhaps, both.