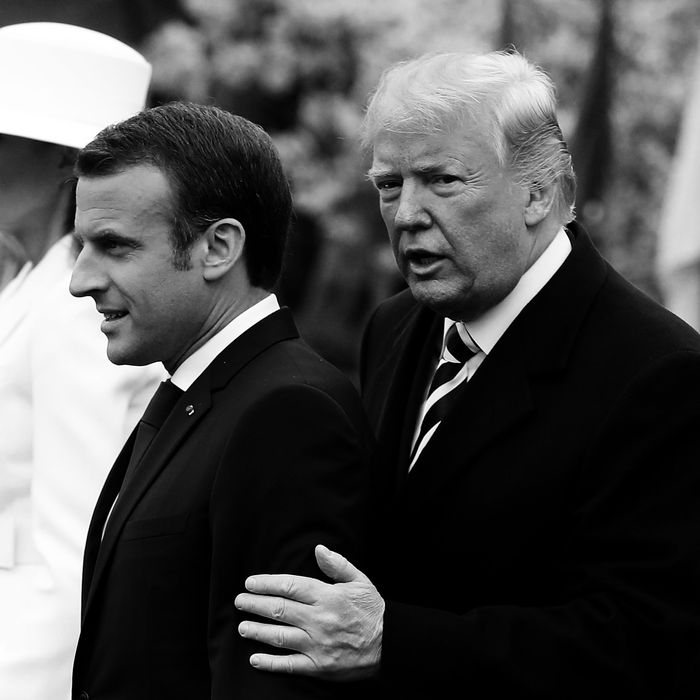 Emmanuel Macron and Donald Trump.
Photo: Chip Somodevilla/Getty Images
French president Emmanuel Macron and his wife and former school teacher, Brigitte, are Stateside this week for the first official visit of the Trump presidency, and everyone's very excited. First Lady Melania Trump has been running around pointing at things, and the president, well, he can't seem to keep his hands to himself!
Yesterday, the First Couples half-heartedly planted a tree together before helicoptering off for dinner at George Washington's estate at Mount Vernon, and, as far as we could see, Trump and Macron shared a fairly standard amount of physical contact for two world leaders — which is to say, not much. Today, however, while greeting Macron at the White House, and during their joint press conference, Trump's little paws were all over the French president.
He smooched him and hugged him:
He held his hand for whatever this pose is:
And for yet another painfully long handshake:
He also pretended to brush dandruff off his suit to show what a "great" and "special" relationship they have:
And yanked Macron toward the Oval Office in what looks like one of those "Follow Me" Instagram poses:
The Trumps' first official state dinner will take place tonight. Bonne chance, Mr. Macron.