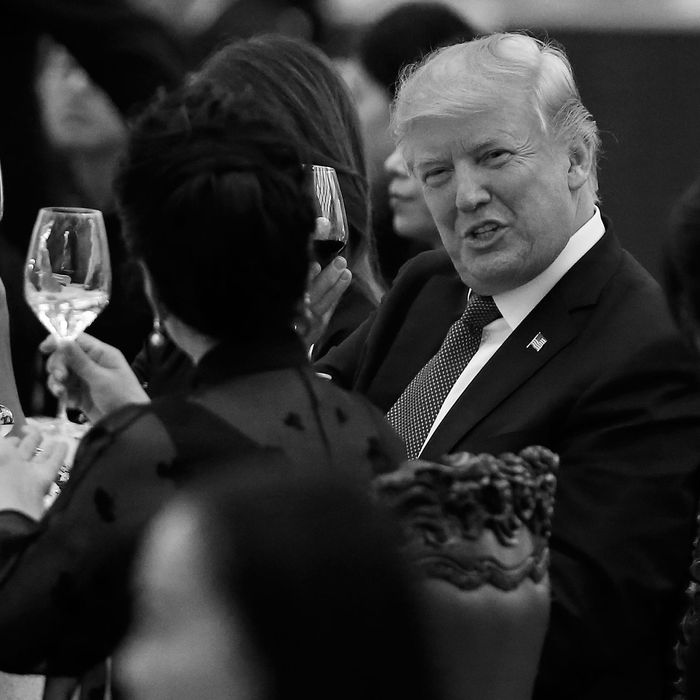 Donald Trump.
Photo: Thomas Peter/AFP/Getty Images
We all know Donald Trump loves big trucks and not exercising, but it turns out the president has another passion — one that's a bit more surprising: he loves hosting dinner parties at the White House.
According to a new report by Politico, Trump has been getting through his new isolated political life — remember how sad he is that his friends aren't allowed to just pop by whenever they want? — by inviting people over for dinner. Several times each month, Trump hosts private parties at the White House for New York real-estate friends, conservative politicians, TV journalists, former aides, lawmakers, and businessmen.
So far he's hosted Matt Drudge, Rupert Murdoch, Patriots owner Bob Kraft, Kid Rock (of course), JPMorgan Chase CEO Jamie Dimon, Sean Hannity, and others. First Lady Melania Trump rarely attends, though some of the meals are hosted at the White House's private residence.
The dinners start apparently promptly at 6:30 p.m., and guests are served very Trump-esque meals (salads, steaks, chicken or salmon, followed by cake for dessert). He drinks Diet Coke, while guests tend to drink wine. Per Politico:
If he's feeling upbeat, he'll give visitors a tour of the Lincoln Bedroom or show off the copy of the Gettysburg Address or a rug first installed by Ronald Reagan. Often, he'll say to guests: "Have you ever seen luxury like this?" as he guides them through, said the administration official.
And of course, Trump apparently ends his dinner parties in the exact way you'd expect: by offering to sign copies of books or the dinner's menu for guests. Sounds like a classy night!