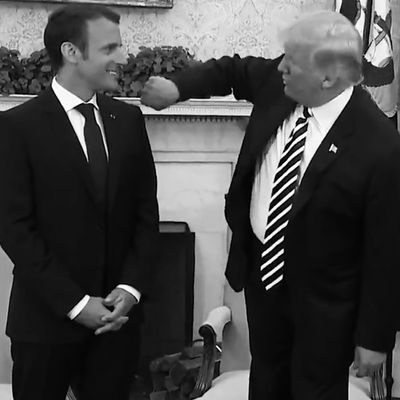 We're only two days in, and already French president Emmanuel Macron's official state visit to the U.S. is a bizarre display from which I simply cannot avert my eyes. So far, Macron, Trump, and their wives have "planted" a tree together, the president has pawed ceaselessly at his French counterpart, and Melania Trump once again tried avoid holding hands with her husband. But the most awkward moment so far came during a press conference in the Oval Office, when, while discussing the "great" and "special" relationship he and Macron share, Trump paused to brush an alleged bit of dandruff off the French president's shoulder. What!!
"Mr. President, they're all saying what a great relationship we have, and they're actually correct, it's not fake news. Finally, it's not fake news," Trump said in front of the assembled group of reporters, as Macron laughed politely.
"But we do have a very special relationship. In fact, I'll get that little piece of dandruff off," the President continued, turning to Macron and wiping an invisible flake on dandruff off his shoulder.
"Just a little piece!" he assured the French president. "We have to make him perfect. He is perfect."
Does it sound like I made that all up? I didn't. Here's a video of it.
Wild, right? Do you think it was a gesture of dominance? A public negging? Another excuse to touch Macron, who is handsome in a nerdy accountant kind of way? Whatever the case may be, I do not believe Macron had any dandruff on his suit. This is a guy who, in three months, spent $30,000 on makeup for press conferences — he's not showing up to a joint appearance with the U.S. president with some stray dandruff on his shoulder.
Still, this isn't Trump's most uncomfortable Oval Office interaction with a world leader.