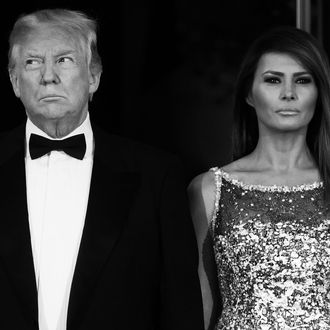 Donald and Melania Trump.
Photo: Saul Loeb/AFP/Getty Images
Today, Melania Trump celebrates 48 years on this earth. She has spent 13 of those years married to Donald Trump, and a little over a year basking in her role as First Lady. So what did the president, a man who often brags about the magnitude of his wealth, get for his beloved wife on her special day?
"Maybe I didn't get her so much … I got her a beautiful card," he advertised, during a call with Fox & Friends. "You know I'm very busy, to be running out looking for presents. But I got her a beautiful card and some beautiful flowers, and she did a fantastic job with France."
Sounds like someone stole a page from Mike Pence's — and every other lazy husband's — "last-minute gift from CVS" book.