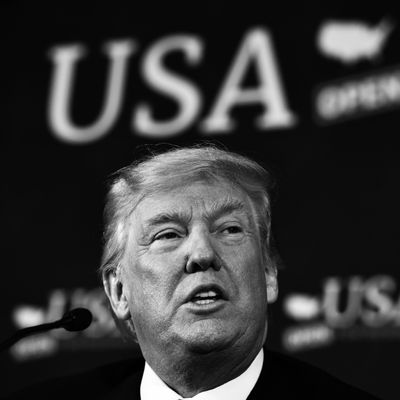 Donald Trump.
Photo: Nicholas Kamm/AFP/Getty Images
During a Thursday roundtable on tax law in West Virginia, President Donald Trump referred to comments he made about immigrants and rape at the start of his 2016 presidential campaign, and then proceeded to make the unproven (and offensive) claim again.
In the 2015 speech announcing his presidential campaign, Trump referred to Mexicans as "rapists" and said that countries do not "send their best" people across borders for immigration. He brought that comment up again on Thursday, in reference to the "caravan" of immigrants traveling to the U.S. from Central America — a group made up largely of women and children who are fleeing violence.
Conservative media has been having a field day with stories about the "caravan" and Trump has been non-stop tweeting about it for days.
"Remember my opening remarks at Trump Tower when I opened. Everybody said, oh, he was so tough," the president, who has been accused of sexual harassment and assault by more than a dozen women, said on Thursday. "I used the word rape. Yesterday it came out where this journey coming up, women are raped at levels that nobody has ever seen before."
As the Washington Post points out, it's unclear what Trump meant or was referring to when he said "yesterday it came out," since there doesn't seem to be any verified reports of rape in the caravan at the moment. Per the Post:
The only mentions of rape with regards to the caravan in recent days, in fact, refer to criminal behavior that the migrants have been trying to escape in their home countries.
A report from the Los Angeles Times also states that migrants in the caravan may become victims of such crimes, but mostly because of people and groups they encounter on their journeys — not because of other members of the caravan. And furthermore, a BuzzFeed News reporter traveling with the caravan tweeted that he hasn't seen or heard of any rapes in the two weeks he's been with them.
Guess we shouldn't have expected any better from this guy.