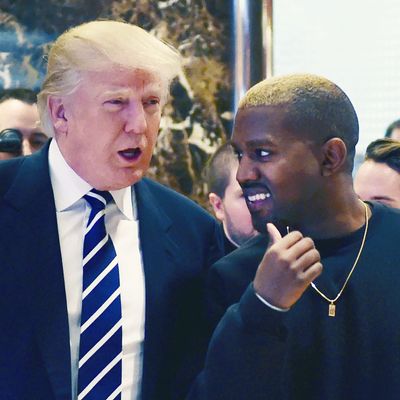 Photo: Timothy A. Clary/AFP/Getty Images
It's official: Trump loves Kanye like Kanye loves Trump, and also like Kanye loves Kanye.
A year and a half after the pair met at Trump Tower for a discussion on "life," Kanye has doubled down on his support for the president, embarking on a frenetic Twitter rampage in which he proffered his support for his "brother" Trump and their shared "dragon energy," among many other incomprehensible things. And now our president, never one to miss a compliment, has responded in kind:
To which Ye responded:
And then, for emphasis:
Kanye joins a vaunted list of pop-culture phenomena that Trump has praised on Twitter, including Billy Joel ("love your music!"), Michael Douglas ("I like Michael Douglas!"), Tom Brady (a "total winner"), and even the phrase "Merry Christmas" ("cherished and beautiful phrase").