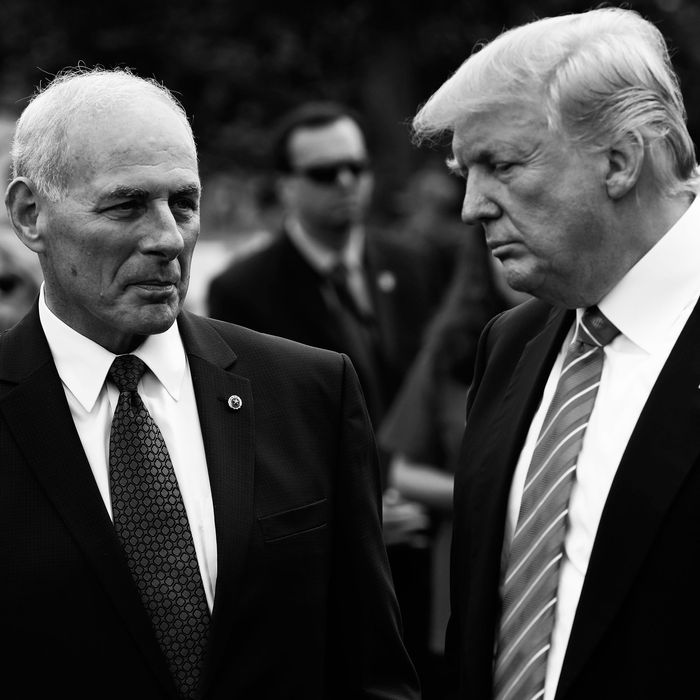 John Kelly and Donald Trump.
Photo: Aaron P. Bernstein/Getty Images
Donald Trump can't be tamed. If China tells him not to tweet, he'll tweet anyway; if a reporter writes an unflattering piece about him, he'll pour wine down their back; and, according to a new AP report, if Chief of Staff John Kelly keeps telling him no, he'll just stop telling Kelly anything at all!
Kelly, who was brought on last summer to help restore order to a chaotic White House, has reportedly fallen out of favor with Trump, and lost much of his sway in the West Wing. His mistake? Not letting Trump do whatever the heck he wants. Per the AP:
Trump recently told one confidant that he was "tired of being told no" by Kelly and has instead chosen to simply not tell Kelly things at all, according to a person who was not authorized to publicly discuss private conversations and spoke on condition of anonymity.
Trump has reportedly been frustrated with Kelly's attempts to restrict access to the president, especially with former advisers like Corey Lewandowski, Anthony Scaramucci, and David Bossie. Kelly has tried to limit Jared Kushner and Ivanka Trump's access, and in February, he implemented a policy that downgraded Kushner's security clearance.
Some insiders are skeptical about how long John Kelly will last in this climate, and reports suggest the president has considered booting Kelly and serving as his own chief of staff. Clearly, he believes he's very well-suited for the job.