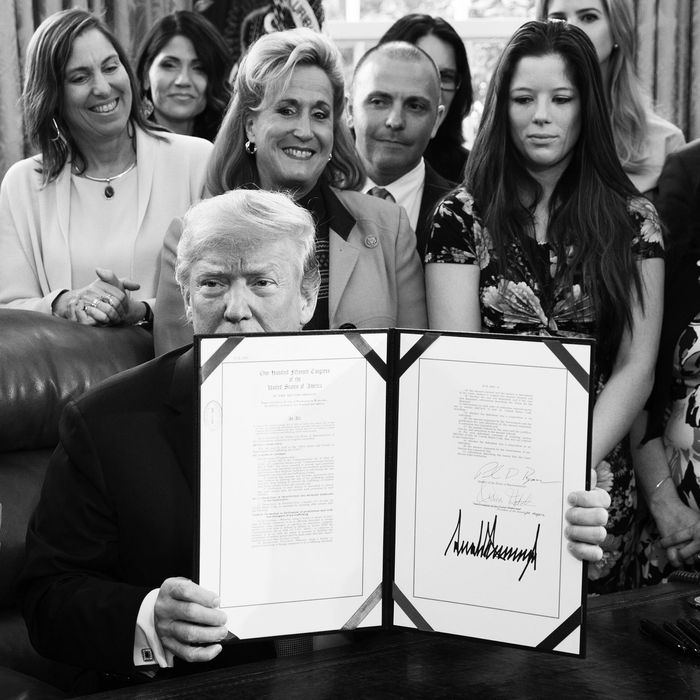 President Trump signing FOSTA.
Photo: Chris Kleponis/Bloomberg via Getty Images
On Wednesday, President Trump signed the Allow States and Victims to Fight Online Sex Trafficking Act (FOSTA) into law. The bill is designed to help combat online sex-trafficking by holding websites accountable for what their users post, but in the past few months, sex workers have come out overwhelmingly against the measure, arguing that it prevents them from being able to do their jobs safely.
FOSTA, also known as SESTA (the Stop Enabling Sex-Trafficking Act) changes Section 230 of the 1996 Communications Decency Act by making it easier for people and lawyers to sue websites that "knowingly assist, facilitate, or support sex trafficking." It targets websites like Backpage.com, where sex workers would sometimes post their ads, and which the government recently seized and shut down.
"This bill claims to target human trafficking, but does so by creating new penalties for online platforms that are overwhelmingly used by consensual, adult sex workers to screen clients, to share 'bad date lists,' to work indoors, and to otherwise communicate with each other about ways to stay alive," adult performer Lorelei Lee wrote in an Instagram post in March. "Data shows that access to these online platforms decreases violence against sex workers, but I don't need data to know that my friends are safer with the ability to screen clients, to share information, and to work indoors."