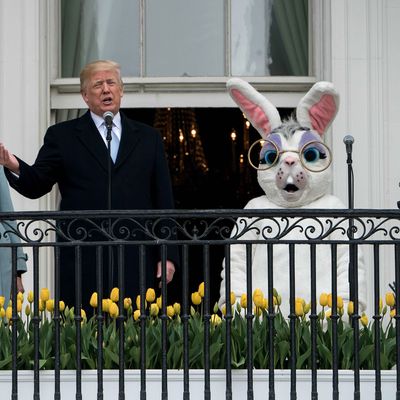 Melania and Donald Trump.
Photo: Nicholas Kamm/AFP/Getty Images
Donald Trump has been in office for 437 days. In that time, he's learned a lot, like how to shield himself from the wind and how to eat a salad. But he has not, apparently, learned what exactly the White House is.
During the annual White House Easter Egg Roll on Monday, under the watchful, bespectacled gaze of an adult in a bunny costume, the president thanked his wife, Melania, for organizing the event. He went on:
I also want to thank the White House Historical Association, […] and everybody who works to keep this incredible house, or building, or whatever you want to call it — because there really is no name for it. It's special. And we keep it in tip-top shape. We call it sometimes "tippy-top shape," and it's a great, great place.
Some might argue that "The White House" is the name for it, or as Trump presumably refers to it, "not Mar-a-Lago." Then again, this is not the first time the president has struggled with complicated government terms.