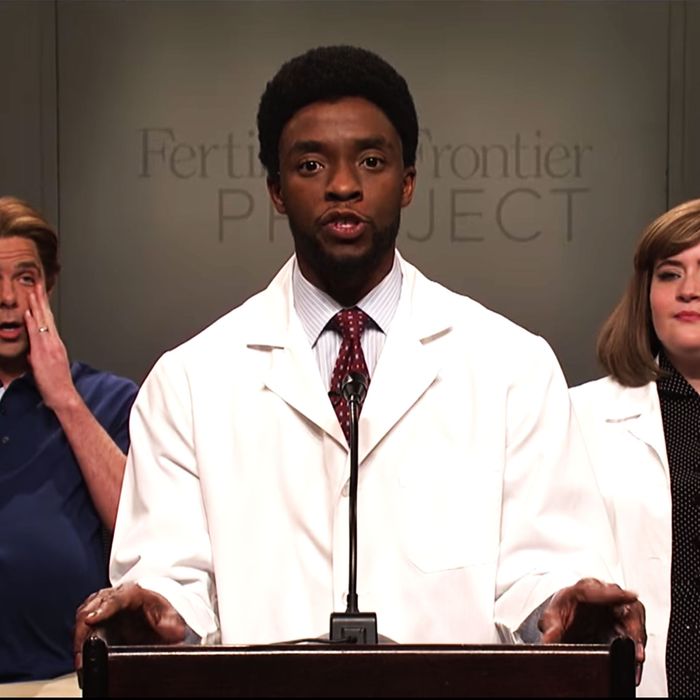 Saturday Night Live's Dr. Chadwick Boseman has a new medical breakthrough that might just render in vitro fertilization and surrogacy obsolete: "paternal embryonic gestation," or a procedure that lets men be the pregnant ones.
In the sketch, Mikey Day is the lucky man who's expecting, thanks to the trailblazing work of doctors Boseman, the lead researcher at the Fertility Frontiers Project, and Aidy Bryant. While Day and his wife, played by Kate McKinnon, are at first happy, the man soon becomes horrified when he learns that giving birth is actually quite difficult. First, he's horrified at the discovery that he will have to push the baby out through his urethra.
"Yes, picture a bowling ball going through a Twizzler," Bryant explains to him. And there's no use trying to rush through the procedure, Boseman warns — if you do, you could experience "tuliping."
Watch the full sketch below to witness Day become increasingly terrified as he attempts the grasp the realities of giving birth, hear Bryant tell a truly disturbing Looney Tunes metaphor, and see Boseman give in to his desire to let out an adorable smile.