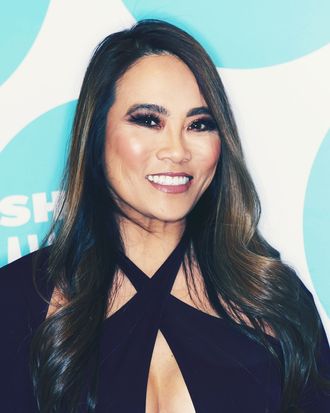 Sandra Lee.
Photo: Gilbert Carrasquillo/FilmMagic
The notorious Dr. Pimple Popper, legally known as Sandra Lee, gained massive popularity and an enormous following for squeezing her patients' pesky pimples and cysts. She has over 5 million followers on her YouTube channel and her Instagram account because the internet loves watching goo ooze from people's faces. That viewing addiction should be the subject of its own show, but for now Lee is working on her own called This is Zit. The dermatologist first announced she'd have her own pimple-popping show in March following her successful one-hour special on TLC, but now she's sharing more details about what to expect from her spin-off.
The first season will have 12 hour-long episodes, and Lee is excited to show off "how far pimple popping has come." She posted on Instagram she is looking for people who need some help in her area of expertise. Whether it's a cyst, large growth, blackheads, or an undiagnosed condition that's ruining your life, Lee wants to hear from anyone who is willing to go on the show. So if you have a bump that's worthy of getting popped on national television, consider putting your medical emergency on hold and auditioning for Lee to do the procedure herself when the camera crew is around. According to a press release, she has "squirt-protective face masks" on deck. Lovely.
We'll spare you and won't include any videos that'll make you squirm here, but if you're so inclined, check out her Instagram or just wait to see everything in HD on your TV screen this summer.